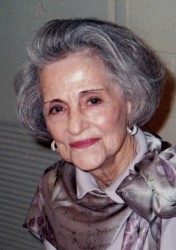 A Memorial service for Hallie Louise Sale, age 94, of Sulphur Springs will be conducted at 11:00 a.m., Saturday, August 29, 2015, at Spence Chapel, First Baptist Church, with Dr. Roy Edgemon officiating. Visitation at 10:00 a.m will precede the service. A Graveside service will be held at the Evergreen Cemetery on Sunday, August 30, 2015, in Stanton, TX, at 2:00 p.m.
Hallie passed away on Sunday, August 23, 2015, at her residence in Sulphur Springs, TX. She was born February 4, 1921, in Dickens County, TX, the daughter of J.B. McNerlin and Edith Louise McCombs McNerlin. She married James Woodford Sale on August 31, 1940, in Midland, TX. He preceded her in death. Hallie was a homemaker and attended First Baptist Church in Sulphur Springs, TX.
She is survived by daughters, Sandra Baucom and husband David of Sulphur Springs, TX, Sharon Camp of Kilgore, TX, and Judy Sale of Stephenville, TX, grandchildren Scott Ward, Traci Tippitt, Jay Ward, Connie Brice, Cathy Gray, Darren, Carla Owens, Wade Sale, Spencer Sale, step granddaughter Denise Holland, great-grandchildren Jamie Powell, Ashley Ward, Allison Ward, Kristen Ward, Christopher Ward, Anna Ward, Ben Brice, Courtney Brice, Julianna Brice, Isabella Brice, Hope Brice, Garret Gray, Sam Gray, Justin Owens, Morgan Owens, Riley Sale, Ashby Sale, Eli Sale, Lilly Sale, Cameron Sale, Trevor Sale, Luke Sale, and Emily Sale, and step great-granddaughter Heather Wimberly, great great-grandchildren Liam Brice and Emma Brice.
She was preceded in death by her parents, her husband, a son James Randall Sale and 6 siblings. Arrangements are under the direction of West Oaks Funeral Home.
Memorials may be made to Carriage House Manor, 210 Pipeline Rd, Sulphur Springs, TX 75482, Legacy Hospice, 301 Gilmer St, Sulphur Springs, TX 75482 or First Baptist Church, 116 Oak Ave, Sulphur Springs, TX 75482.