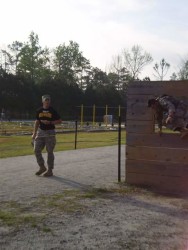 US Army Staff Sgt. Clay Bounds, stationed at Ft. Benning, Ga. is one of 80 Army Ranger Instructors for the first female Ranger class in the history of the U. S. Army Rangers program. On Friday, Bounds will observe as the first females receive their "Ranger tab" during graduation ceremonies. Bounds is a native of Sulphur Springs and the son of KSST's Enola Gay.
Ranger School is a grueling 62-day course in swimming, land navigation, parachuting, foot marches and mock combat patrols. In April 2015, the first-ever class of 19 female recruits began Phase 4 school at Ft. Benning. Eight (8) female recruits advanced to Phase Five mountain training, and two (2) endured to enter the final "swamp" phase in Florida. 1st Lt. Shaye Haver and Captain Kristen Greist, both graduates of West Point U.S. Military Academy, completed all tests successfully and will join 94 male candidates at ceremonies.
In addition to parading in uniform for superiors, instructors and families, the class will demonstrate knowledge of helicopter jumps, rappelling, demolition and explosives skills. Sgt. Bounds is a graduate of SSHS, joined the Army in 1994, became a Ranger in 2013 and has been a Ranger Instructor since 2014.