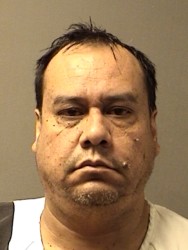 Fernando Sosa-Pintor, 52, was arrested again last week for possession of child pornography. This time the arrest was initiated by the Federal Bureau of Investigation. Sosa-Pintor was held in Hopkins County Jail until Tuesday, August 04, 2015, when he was taken to Plano for a hearing in federal court. The hearing was scheduled for Tuesday afternoon but the results are not known at this time.
The Sulphur Springs man was arrested by Hopkins County Sheriff's deputies Tuesday evening, September 23, 2014 for possession of and promotion of child pornography. Then Investigator Daniel Winn and Sgt. Corley Weatherford executed a search warrant at the residence above a Mexican food restaurant on West Industrial in Sulphur Springs. Computers and electronics containing images of child pornography were seized. Sosa-Pintor was then held on bonds totaling $60,000, set by then Justice of the Peace Ronny Glossup. Hopkins County Sheriff's officers and the FBI had worked together in the initial arrest.
More on this story as soon as the result of his appearance in federal court are made known to local authorities.