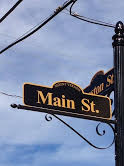 Activities for families will be included in Mount Vernon Main Street's regular Second Saturday on the Square, September 12, 2015 as part of the Family Day. Organizations that serve families in Franklin County will be setting up informational booths for attendees. Vendors and Farmer's Market booths will also be on the square. Family Day activities will be featured from 10 am until 3:30 pm.
Hot dogs will be provided free of charge from 11 am until they are gone. Door prizes will also be given away throughout the afternoon.
Musical entertainment will be featured in the gazebo. The Porter Sisters will be providing classic country and gospel selections. The Hollingsworth Family will lead gospel singing beginning at 2:30 pm.
"At this time, we are still reserving booth space, free of charge, to any organization that serves families and individuals in Franklin County. In addition, we are seeking business vendors to set up booths without a fee," stated Kathy Cannon, Main Street Volunteer and event organizer. "We are asking each booth to donate a door prize for a drawing to be held in the afternoon instead of paying a fee to set up."
To reserve a booth space or for more information, please contact Mrs. Cannon by e-mail at [email protected]