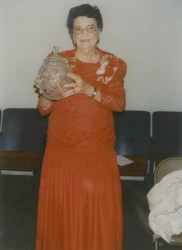 Graveside funeral services for Dorothy "Dot" Christian Yarbrough, age 95 of Yantis will be held at 10:00 a.m. on Friday, August 14, 2015 at Yantis Cemetery with Rev. Rodney Crist officiating.  Clayton Christian, David Christian, Stephen Christian, Robert Tullis, Gene Tullis and Ronnie Stephens serving as pallbearers.  Visitation will be held from 6:00 to 8:00 p.m. on Thursday, August 13, 2015 at Murray-Orwosky Funeral Home.
Mrs. Yarbrough passed away Wednesday, August 12, 2015, at East Texas Medical Center in Quitman.  She was born on July 20, 1920 in Yantis, the daughter of Ruben and Artie Lee (Wright) Stephens.  She married Lawrence "Pard" Christian, who preceded her in death.  She then married Roy Yarbrough, who also preceded her in death.  She was a member of the Order of Eastern Star as a past worthy matron and a member of the County Line Baptist Church.
She is survived by one son, Dan Christian of Yantis; one sister, Jean Tullis of Yantis; four grandchildren, Gina McCoy, Clayton Christian, David Christian and Stephen Christian and ten great-grandchildren.
She was preceded in death by her parents; both husbands; one daughter, Ima Lou McCoy and three brothers, Gail Stephens, Johnnie Stephens and Elizie Stephens.
Memorials can be made to the County Line Baptist Church in Yantis.