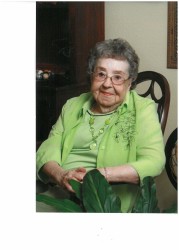 Graveside services for Coela Maxfield Hoines, who walked peacefully into the arms of her Savior on Thursday, August 13, 2015 in Arlington, Texas at the age of 99, will be held at the Sherley Cemetery at 10:30am pm Saturday, August 22, 2015.
Born on May 16, 1916 in Sherley, Texas, she was the 10th child of W.N and Sarah Hamrick Maxfield.
Coela was preceded in death by her husband, Tom Hoines while residing in Stanwood, Washington.  Also by a daughter, Siegred and husband, Dennis Hoines.
Survivors include her daughters, Shirley Robinson of Fort Worth, Texas and Sherry Fort and husband Harvey of Harrison, Arkansas, a son, Tony Lovette and wife Barbara of Arlington, Texas, a step-daughter, Marie Simonseth of Snohomish, Washington and 5 generations of grandchildren.  She was loved by all.
Visitation will be held one hour before the service at Tapp Funeral Home.
Arrangements are under the direction of Tapp Funeral Home.