Chamber Connection – August 6, 2015  by Meredith Caddell
Hopkins Place will be honoring their Heroes with a First Responders Lunch, Friday, August 14th
The staff and residents at Hopkins Place would like to honor their heroes & first responders with a complimentary lunch, Friday, August 14th from 12-1.  They are located at 890 Camp Street.  Please RSVP to Sherrie at 903-658-9278 by August 12th.
Hot August Night, Saturday, August 15th-Civic Center Grounds…Featuring the After & Hawk Nelson
The Way Radio Group and Sulphur Springs Dodge present Hot August Night, Saturday, August 15th at the Civic Center Grounds.  The Hopkins County Volunteer Fire Departments, 9th Annual BBQ Cook-Off begins at 1pm.  Food Service Begins at 5pm and the Concert featuring The Afters & Hawk Nelson begins at 7pm.  You may get your tickets at itickets.com.
Don't miss Elizabeth Ellis, Saturday August 15th at the Sulphur Springs Library!
If you remember going to the library when you were a child to listen to stories, pass those memories to a new generation… bring a kid to the library!  ELIZABETH ELLIS will be here Saturday morning August 15 at 10am!  Elizabeth Ellis doesn't mince words. Filled with hilarious and poignant honesty, her personal stories deliver down-home wisdom, southern style. It is a voice which finds the heart and the funny bone, riveting audiences wherever she goes.  Elizabeth Ellis grew up in the Appalachian Mountains hearing stories from her Grandfather, a mountain minister.  The "Divine Miss E" is a versatile, riveting teller of Appalachian and Texas tales and stories of heroic American women, though her personal stories are arguably her best. Invariably hilarious and poignant, she is a repeated favorite at the National Storytelling Festival.  The award winning storyteller has mesmerized nearly a million children in her thirty-six year career.
4th Annual Dog Show, Thursday, August 20th  @ 6:00pm at Hopkins Place
Come visit the remarkable, pet-friendly community at Hopkins Place, for the 4th Annual Dog Show!  Dogs will be judged in several categories…Best Hair, Best Behavior, Most Friendly and Best Bark!  The Entry Fee is a 10lb bag of dog food to be donated to the Hopkins Coutny Animal Shelter.  This event is sponsored by Bethany Home Health.  To register your dog, please call Sherrie at 903-439-1202
4th Annual Jace Jog, Saturday, August 29th, 5K Run/Walk and Kids Fun Run, Coleman Park
5K Run Walk begins at 8:00 a.m.; $25.00 Entry Fee.  Kids Fun Run at 7:30 a.m.; $5.00 Entry Fee (10 years and under will be held at Coleman Park (Soccer Field Side).  Register at Anytime Fitness and online:  rctregister.com.  Early registration –  July 15- August 14.  T-shirts guaranteed for 5K early registration.
Adult Leadership Class Project…Beautiful Picnic Tables in the new pavilion!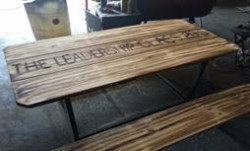 The Leadership class of 2014-15 has the opportunity to assist in enhancing this area using a location that has been unused for years.  The City of Sulphur Springs and the Adult Leadership Class of 2014-15 has partnered in the demolition of the old city pool and begun the construction of a large pavilion, available for public use, complete with brick fireplace/smoker and 24 picnic tables. We anticipate a great place for family reunions, class reunions, birthday parties or general meeting space!
The tables are a  $1,000 donation for each picnic table personalized with your business, family name or loved one's name with a maximum of 30 letters.  Donations can be paid to the order of Sulphur Springs Leadership Class 2014-15 or Hopkins County Chamber of Commerce. They will limit to the first 24 paid donations.
We would like to welcome the following members to the Chamber of Commerce:
Managed Solutions Group
1203 Jackson St. North
Sulphur Springs, Tx  75482
888-354-6208
Kasey Tomasek
Computer Technology Services
Red River Credit Union
1335 S. Broadway, Ste. 20
Sulphur Springs, Tx  75482
903-735-3164
Ryan Brook
Banks & Mortgage Companies
That's all for now…have a GREAT week!