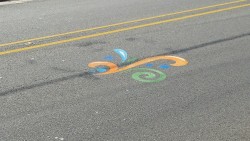 Inquiring minds have begun to ask what the Celebration City logo is doing placed every 200 feet from I-30 to Celebration Plaza. The logo appeared Saturday morning between the hours of 4 a.m. and 8 a.m. along the route. It is also found on the runway at the Municipal Airport, according to some sources.
The logo begins just on the plaza side of the South Broadway, I-30 bridge and follows the route pointed out by the lighted signs on the signal lights at that intersection. Those lighted signs point the way to the dining district.
More information as it become available. City Manager Marc Maxwell stated Monday that he was unaware of how the logo appeared.