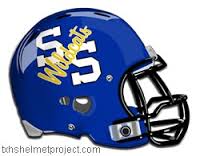 The big week for Wildcats' football season ticket holders and those that would like to be is August 10-14. High School Administrative Assistant Dwayne McMeans announced the dates in a recent letter to season ticket holders. Price for the five-game home season ticket package is $50.
The first two days of season ticket week, Monday and Tuesday August 10-11 are for current season ticket holders only to renew tickets. Tickets not renewed Monday or Tuesday will be open to the general public later in the week. Wednesday August 12 is a day only for season ticket holders who have renewed their tickets to seek upgrades. Then tickets that are left will go on sale to the general public Thursday and Friday August 13-14.
All the season ticket activity will take place at a new location this year, the High School Conference Center. Office hours for season ticket week will be 8:45 a.m. until noon and then 1 p.m. until 5 p.m. The office will be closed from noon until 1 p.m. each day. Patrons are asked to enter high school from the Connally Street entrance and follow signs to the Conference Center.
This years home schedule includes the season opener against Rockwall Heath on Friday, August 29. Other home games include the Homecoming game against Whitehouse and district games against Mt. Pleasant, Pine Tree and Marshall. The Wildcats first scrimmage this year will be at Prim Stadium against Liberty-Eylau on Friday, August 14. They will also scrimmage at Royse City on Friday, August 21.