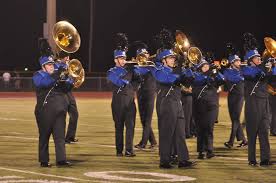 It's been a busy week for some members of the Wildcats Marching Band. Camps for Color Guard and Percussion have been going on this week. Band Director Charles McCauley also has a special session planned for incoming freshmen band members Friday. Thursday morning McCauley said color guard and percussion have been working from 8 a.m. until 4 p.m. each day this week.  Marching each morning and afternoons given to indoor activities have provided several learning experiences.
This Friday they will be bringing in the new freshman band members to let them know what is required of them–what to wear, what to bring, etc. Summer band is from 2- 8pm and each member must bring a healthy snack for their break half way through practice. Turkey Sandwich and some veggies or fruits is an example. "Chips and Dr.Pepper is not a healthy snack "said McCauley'. Each student will be given a one-gallon water jug. They must keep these jugs with them at all times even during the school day to hydrate before afternoon practice.
This promises to be a great year for the Wildcat Marching Band!