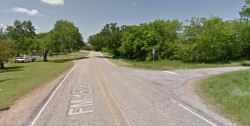 Yvonne Weir, of Tira, and Brenda Allen, of Yantis, have been on a trip to South Dakota. They drove to the ranch, which was Yvonne's home place, and then the next day they, along with Yvonne's sister-in-law, Lynn, and "old friend" Betty, went to Yellowstone and enjoyed the sights at the park. They report that the weather was much cooler there – 37 degrees one day. Yvonne had to buy a hoodie to keep warm. They had a great time!  They returned home on Wednesday and were back at work on Thursday.
Robert, Yvonne, and Wesley Weir had supper with Dacy and her family on the 4th, then headed home to do fireworks for Wesley.


Mick Petty has given up his job of mowing the community center grounds. Floyd Lawson has taken over the task. We appreciate Mick and Floyd for their service to the community
Landon, Laiken, and Rylan Joslin went to Cooper Lake last weekend, with Laiken's parents. They enjoyed boating, riding on the tube, and skiing. Chip and I enjoyed spending time with Brailon and Slaiden, while they were gone.
Kenden and Jaidyn Joslin and their mother, Tiffany, spent Wednesday evening at Cooper Lake. They visited with Charlie and Susan Vaughn and they went kayaking and swimming. The kids have also been enjoying swimming with cousins in Tim and Lori's pond this summer. Last weekend they went to a birthday party for Brailon Rhudy on Saturday. Tiffany's good friend Stephanie Weaver, was in for the event and they enjoyed spending time together. On Sunday, Tiffany and the kids went to a birthday party for Dallas Davidson at the Children's Museum in Commerce.
I always need and appreciate input from my friends to help keep me informed of news in our community. If you have any news pertaining to Tira residents, past or present, please contact me, Jan Vaughn, at 903-945-2190 or 903-438-6688 or [email protected].