KSST is thanking everyone that participated in the 2015 News Telegram Tele-Grammys. And a special thanks to the folks who voted for KSST. KSST was voted the "Best Radio Station" in Hopkins County. 2015 is the first year for a "best of radio" for the Tele-Grammys. Thus, another first for KSST, the first radio station for Sulphur Springs and Hopkins County.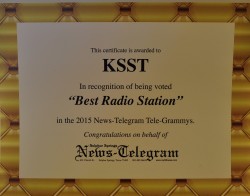 "Although we focus on Hopkins County and Sulphur Springs, faithful listeners are found in the surrounding counties," according to Jim Rogers, KSST General Manager. "The diversity of our programming is designed to communicate to the desires and needs of our listeners as well as offer a perfect platform for our advertisers to present their services and goods to a larger comsumer base. We are challenged by the vote to continue to offer the best in radio, as well as local television, and website news, weather, and sports to our area," stated Rogers.
KSST Radio and Television was once located upstairs in a building on the West side of the Square. There is a historical plaque placed where the stairs lead up to the old location. The station moved to a location on Radio Road, now known as Bill Bradford Road, before moving to the current location on Shannon Road.  KSST is known for their Good Time Oldies Rock, a blend of 50's, 60's, and 70's music. KSST Radio was once owned by the Bradford family and is now currently owned by Chad and Rhonda Young. KSST also has a website known as ksstradio.com which was organized in 2014. And offers local television programming on Suddenlink Cable Channel 18.
Current KSST programming includes:
Weekdays
-At the top of every hour from 9am – 5pm, with the exception of 1pm, we carry TSN (Texas State Network) News. Their newscasts contain primarily state news and sports, but they will also touch on major national stories.
-At the bottom of every hour from 9am – midnight, Don Julian's daily "News Notes" plays (a minute and a half segment highlighting the biggest and newest local news stories)
-The Award Winning 12:45 Local News: 12:45pm each weekday with Don Julian
-The Trading Post: weekdays 12:30pm
-Bill Bradford's Day in History: airing during the 6am, 8am, 6pm hours as well as the 12:45 Local News
-The Good Morning Show with Enola Gay: 6-9am each weekday
-Shoot the Bull with the Texas Ag Commissioner: 6am hour
-Dairyline Report: 6am hour
-Sounds of Texas with Tumbleweed Smith: 8:30am
-The Afternoon Drive with Jordan Owens which includes Good Time Oldies, local news and interviews, variety segments
-TFB Afternoon Report 4pm
-Living the Country Life 5pm
-This Day In Music History with James Terry
-Upwords with Max Lucado: 1 minute inspirational religious program airing during the 7am, 12pm, 2pm, 6pm hours
-Texas Farm Bureau Reports: Morning- 9am, Midday- 12pm, Afternoon- 4pm
-Storm Report with Dan Holiday: 9am hour
-Family Minute: 1 minute religious family advice program airing during the 10am and 3pm hours
-Living the Country Life: program aimed at rural residents airing during the 11am and 5pm hours
-Science and the Sea: educational segment airing on Tuesday and Thursday afternoons during the 2pm hour
-"Why Didn't I Think Of That?" a fun show highlighting interesting entrepreneur success stories airing during the 12pm and 6pm hours
Saturdays
-Red Steagall Show: an hour full of country western and swing music 6am Saturday mornings
-1230 West Show with Enola Gay and Benny Potter: continue the country music fun for another hour starting at 7am on Saturdays and a rerun at 7pm on Thursday evenings
-MRN's (Motor Racing Network) NASCAR 360: an hour show jam packed with the latest news from the race tracks, Saturdays at 8am
-Coaches' Show with Don Julian: 9am Saturday mornings during Sulphur Springs High School sports seasons.
Sundays
-Church services from Davis Street Baptist Church, Divide Baptist Church, Fellowship Christian Church, Larry Jordan Ministries, First Baptist Church Radio Bible Class, and First Baptist Church all airing from 8am – 12pm. First Baptist Church also airs their service at 7pm Sunday evenings.
-Science and the Scripture: 9:15am
-Grace to You: 6:05am
-Gospel Music from 6:30 to 7am
-Sports Spectrum: a religious look into the world of sports airing at 7am on Sundays
Sports Programming
-We are the Official Wildcat and Ladycat sports station providing play-by-play coverage for Sulphur Springs High School football, basketball, baseball, softball, volleyball, and soccer.
-Texas Rangers Report: weekdays 10am – 4:45pm (during Rangers Baseball season)
-Dave Campbell's Texas Football Hour: Wednesday nights at 7 (during high school and college football season)
-Brad Sham Report/Cowboys Report: times TBD (during Cowboys football season)
-We are an official affiliate for Texas Tech Red Raider Football as well as Texas A&M Aggie Football. On weeks where schedules do not conflict, we will broadcast games for both schools. If a scheduling conflict occurs, Texas Tech Football will take priority.
Always remember to stay tuned into KSSTradio.com