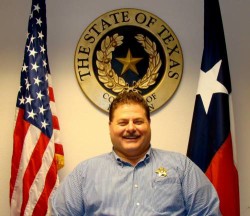 MOUNT VERNON, TX (07-23-2015) Franklin County Sheriff, Ricky Jones announced today that his department along with the assistance of Texas Department of Public Safety's Texas Rangers Service are investigating the Murder of a 50 year old white male victim. Deceased is Darrell G. Blankenship who lived in a residence on the south side of the Scroggins Store.  JP Jim Alford pronounced Blankenship dead and ordered an autopsy. A White Male Suspect was placed in custody at the scene. Suspect is James Dale Veracruz, 36 years old of Linden, Texas located in Cass County, Texas. Suspect is being held on warrants out of Cass County for burglary at this time. Sheriff Jones stated a warrant for Murder will be forthcoming by days end.
At 7:59AM Franklin County Sheriff's Office 911 Operators received a 911 call of a possible shooting at the "Scroggins Store" located at 14818 Farm to Market Road 115 and the intersection of Franklin County Road 4425. Upon Deputies arrival at location they first encountered the suspect and placed him in custody. Victim was pronounced deceased by Franklin County Justice of the Peace Jim Alford and the body will be taken to Southwestern Institute of Forensic Science in Dallas for an autopsy.
Sheriff Jones requested if anyone has any information concerning this offense, they are urged to contact the Franklin County Sheriff's Office (903) 537-4539 or Northeast Texas Area Crime Stoppers by phone at 903-577 TIPS(8477) or at www.netacrimestoppers.org.