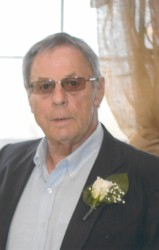 Funeral services for Michael Norton, age 67 of Sulphur Springs will be conducted at 10:00 a.m. on Monday, July 27, 2015 at Murray-Orwosky Funeral Home with Rev. C. J. Duffey and Rev. Tommy Hall officiating.  Interment will follow at the North Hopkins Cemetery with Dylon Weatheread, Brandon Baker, John Moore, Charlie Wilburn, Travis Patridge and Robert Flewelling serving as pallbearers.  Honorary pallbearers are the Sulphur Springs Lowe's employees.  Visitation will be held from 5:00 to 7:00 p.m., Sunday, July 26, 2015 at Murray-Orwosky Funeral Home.
Mr. Norton passed away on Thursday, July 23, 2015 at his residence.  He was born in Mandan, ND on January 11, 1948, the son of Jarvis "Red" and Norma Jean (Baudien) Norton.  He married Sandra Smith on June 4, 2011 in Cumby.  He was a web designer, department manager at Lowe's, American Legion Hall of Fame baseball player and was of the Baptist faith.
Among the websites Mike developed, ksstradio.com has developed into a major artery of news for Sulphur Springs, Hopkins County, and the surrounding area. Current KSST Webmaster Adam Whitson, a close friend of Norton, wrote, "Michael J. Norton was a part of KSST's 68 years of broadcasting in Hopkins County.  Mike developed the station's website, KSSTRadio.com, from scratch.  He also sold advertising for the station, and gave his input on any topic that came up. Mike also took photos and wrote articles for the website. Mike was a devoted family man, and was kind to everyone."
Mike also developed a network of relationships for ksstradio.com. KETK, an NBC television affiliate in Tyler, posted, "KETK had the pleasure of meeting Mike Norton not too long ago to talk news and more. Our hearts go out to the KSST Radio family."
A North Dakota native, Mike always joked about how Texans thought it was cold here.  He almost always had a tumbler of cold coffee in his hand or in the console of his pickup.   He loved a good Reuben Sandwich. We will miss you Mike.
Survivors include his wife, Sandy; daughters, Brandi Bailey, Brittni Weatheread and husband, Dylon, all of Sulphur Springs; sons, Palden Renner of Denver, CO, Michael Renner of Seattle, WA; grandchildren, Brandon Baker and Kennon Fudge; brother, Kenny Norton of Salt Lake City, UT and sister, Janice Miles of MN.
He was preceded in death by his parents and brother, Rick Norton.
Memorials can be made to the Heritage Counseling Center.