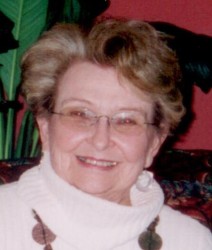 Martha Robinson Pitts of Plainview, Texas passed away on July 1, 2015. A celebration of Life will be held at Garland Street Church of Christ on Tuesday, July 7th at 3:00 p.m. with Tony Dominguez, Minister of Rabon Chapel Church of Christ of Montgomery, Texas and Steve Gauntt Minister of Garland Street Church of Christ officiating. Remarks will be by Johnny Peck. Burial will follow in Parklawn Memorial Gardens under the direction of Bartley Funeral Home. Visitation will be at Bartley Funeral Home, 1200 S. I-27 in Plainview from 6 to 7:30 p.m. on Monday, July 6th.
Martha Pitts was born in Sulphur Springs, Texas to William Claude and Zera Matt Moore Robinson. She graduated from Sulphur Springs High School in 1945 where she was a twirler for the local band. Martha was secretary to the County Judge in Sulphur Springs before moving to Dallas, Texas. There she attended Draugnis Business College and was employed at The Meggs Company, a wholesale parts automotive for many years. She married Dr. Robert Pitts on April 2, 1953 at Shamrock Shores Church of Christ in Dallas, Texas. They were married for 62 years. Martha spent two years in Fairbanks, Alaska where her husband was a 1st Lieutenant and a dental surgeon for the 274th Field Artillery Battalion at Ladd Air Force Base. While there, Martha volunteered as a Gray Lady, which was affiliated with the Red Cross at Ladd Air Force Base Hospital. She held offices in the Army Officers Wives Club and Epsilon Sigma Sorority. In 1956 she moved to Plainview, Texas where Dr. Pitts opened a dental practice that lasted 50 years. Martha was president of the Cancer Board, Delta Delphin Study Club and the Women's Division of the Chamber of Commerce. She was also a Pink Lady of the Hospital Auxiliary and also volunteered for the College Hill PTA, City Council, Plainview Knife and Fork Club, P.E.O. Chapter BL and the Meals on Wheels Board. She served on the Boards of the Chamber of Commerce, Heart Association, Wayland Alumni Association, Plainview Civic Theater and Plainview Symphony Guild. Martha attended Wayland Baptist University, graduated from the Dale Carnegie Course and was listed in the publication of Personalities of the South. In the past, she has served as church secretary for 10th and Utica Church of Christ. Martha taught Bible Study Class at Garland Street Church of Christ, 3rd graders, 3 year-olds, junior high girls and was part-time secretary at Garland Street Church of Christ. She was also affiliated with National Bible Studies(NBS). Martha was a Public Relations Representative and Customer Service Representative for First National Bank of Plainview and Public Relations Representative and Executive Secretary for the Plainview Downtown Association.
Those remaining are her husband, Dr. Robert Pitts, one daughter, Dawn Johnston and her husband Vince of Melrose Park, Pennsylvania, two granddaughters, Rachel Tollett of Shavertown, Pennsylvania and Leah Tollett of Melrose Park, Pennsylvania, four step grandchildren, Vince Johnston, Liam Johnston, Kellen Johnston and Meredith Johnston all of Warminster, Pennsylvania and many nieces, nephews, grandnieces and grandnephews from all over the U.S.
Those preceding her in death are her parents, two sisters, Margaret Ruth Smith and husband Dub and Doris Prim and husband Gerald, one nephew, Jerry Smith, one special cousin and Betty Lou Gehris and husband Pete of San Diego, California.