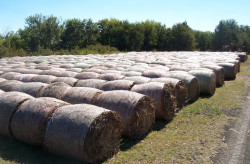 OVERTON — East Texans have made a lot of hay so far this year, but because rains delayed harvesting, fertilization and herbicide treatments, much of it may be of low quality, according to a Texas A&M AgriLife Extension Service agronomist.
"That's why it's as important as ever to be able to produce high-quality winter forages this year," said Dr. Vanessa Corriher-Olson, AgriLife Extension forage specialist, Overton.
Corriher-Olson and her colleague, Dr. Jason Banta, AgriLife Extension beef cattle specialist, Overton, will be conducting a training, "Winter Pastures for Central and East Texas," on Aug. 14.
The training will be held from 9:30 a.m. to 5 p.m. at the Texas A&M AgriLife Research and Extension Center at Overton.
"One of the big problems with hay from overly mature summer forages is often low energy content," Corriher-Olson said. "We'll be discussing how to make up for this as well."
Registration for the program is $60 before Aug. 5 and $75 before Aug. 11, after which registration will be closed. Registration includes lunch and program materials. Register online by going to https://agriliferegister.tamu.edu, entering "pasture" in the search window, or call Extension Conference Services at 979-845-2604.
Corriher-Olson said the program will address many of the issues people commonly have about establishing winter pastures:
— Cool-season forages and variety selection.
— Monthly and seasonal forage production potential.
— U.S. Department of Agriculture Internet soil survey demonstration.
— Establishment and fertilization.
— Grazing and utilization strategies.
— Impact of cool-season annuals on warm-season perennials.
— Appropriate mineral supplementation.
— Armyworms and other cool-season forage insects.
— Estimated costs of establishment.
Banta said time will be allotted for a question-and-answer session after the presentations.
The program will offer two continuing education units to Texas Department of Agriculture private pesticide applicator license holders — one in the integrated pest management category and one in general.
Maps and driving directions to the Overton center can be found by going to http://overton.tamu.edu and clicking on "Center Information" on the left panel.
For more information, call Michelle Sensing at 903-834-6191.