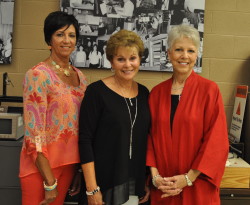 Most people are familiar with the Health Care Foundations' Lights of Life tree lighting and Gala that raise funds for Hopkins County Memorial Hospital. The past year or so, mini-events have been added to bring in even more funds and add to the fun. The Director of the Foundation Jackie Thornton was joined by this year's three co-chairs for the Lights of Life and Gala campaign who discussed some mini-events coming up on KSST's Good Morning Show with Enola Gay Monday morning.
Monday, July 20, 2015, On KSST's Morning Show, (left to right in picture) Gloria Mitchell, Donna Rudzik,  and Polly Swatsell, the 2015-2016 Lights of Life Campaign chairs, along with Jackie Thornton, Director of the  Hopkins County Memorial Hospital Foundation, updated the community on the campaign. "It has been an exciting and fast few months since we took over chairmanship of the campaign" stated chair Donna Rudzik.  She added, "Because this is the 10th anniversary of the Lights of Life gala and the 20th anniversary of the Lights of Life tree lighting campaign, we felt "A Decade of Diamonds" would be the perfect theme for our campaign this year.  We are excited because we will be recognizing and honoring all the past chairs that have gotten us to where we are today".   We want to pay tribute to each one of them for all their hard work and acknowledge the accomplishments and difference they've made for our hospital and community."     
" We were a little nervous when the Foundation board set another aggressive goal of $250,000 for the 2015-2016 campaign.  While it scares us to death, we promise to work hard to achieve this lofty goal and with the continued support of this caring community we believe we will reach it", said chair Polly Swatsell.  "We are honored and humbled to have the opportunity to continue the traditions set by the great chairs before us" continued Swatsell.
Chair, Gloria Mitchell added "that with the generous continued support of the community our goal is to donate the entire amount requested that will be used to purchase;
Six LUCAS CPR devices for EMS which will provide the EMS Department the tools and abilities they need to improve survival rates during cardiac arrest.  The LUCAS CPR provides consistent and quality chest compressions without the need to stop compressions to perform other clinical procedures.
And it is our desire to contribute all additional funds to the Foundation "Leaving a Legacy" Endowment Fund.
"Sponsor solicitation letters went out June 1st and the gala is already almost sold out!  We are thrilled to announce that this year; in honor of the 20th and 10th anniversary we have two DIAMOND Sponsors.  Carriage House Manor and The Cottages and CHRISTUS Health both committed to be our DIAMOND Sponsors. We were so excited to have one much less two", stated Swatsell.  Because we are getting close to being sold out again, we are encouraging anyone who hasn't confirmed your sponsorship to do so quickly.  While the sponsorship money is not due until December 15th, a commitment is encouraged and appreciated", stated Swatsell.
To continue with previous traditions,   local vendors will be used as much as possible.  Danna's Florist will provide the decorations and Joe's Exxon and Joe Bob's Convenience Store will provide the beer, wine and Champaign.  Eddie Deen will cater the black-tie event, Idsy Bitsy Bakers will prepare a yummy dessert and Texas Unlimited Band will entertain the guests for a third year.
"The community has truly embraced the campaign and gala.   They like dressing up for the gala and have a fun night while giving back to their hospital.  It's a WIN-WIN and a blessing for us all", stated Thornton.  She said the foundations is truly blessed, overwhelmed and humbled by the success of the campaign.
"The Hopkins County community continues to amaze me with their generosity that obviously comes from their heart. They show their appreciation of having a local hospital that takes care of their medical needs and they are proud to support the hospital through the Health Care Foundation.   It's privilege for me to work  for this committed Foundation board and serve in this giving community", Thornton continued.
If you cannot attend the gala but still wish to support your local hospital you can contribute to the 20th anniversary of the campaign with your donation to the Lights of Life Christmas tree lighting event that will be held December 3th in The Gardens at Memorial.   A $25 donation given in memory or honor of someone special is represented by a light on the Lights of Life Christmas tree. Also, there will be other opportunities, like the Half Marathon, the Fashion Show hosted by Lou Nell's, and the Fall Sassy Classy Tea.
Join us as we work hard to make a difference for the hospital and the community through your support of the 20th and 10th Anniversary of 2015-2016 Lights of Life Campaign and Gala.  Sponsorships are available so call the Health Care Foundation office at 903-439-4799 for more information.