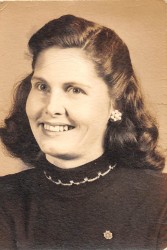 Laura Ann Sewell, age 88, left this world peacefully on July 25, 2015, at Hospice of East Texas, in Tyler, after a brief illness. Laura was born April 29, 1927, in Savanna, OK, the daughter of Marion and Oriel Spears Buckner. During WWII, Laura found herself working as a waitress at a diner on a military base in Oklahoma. It was a cool fall day in 1945 when she caught the eye of a slick, Texas, Navy man by the name of Truitt Sewell.  That day she didn't' know that she had agreed to a date with her lifelong best friend and soulmate.  The two became one on Dec. 8, 1945, only a few months after meeting.  They returned to Truitt's hometown, Sulphur Springs, TX, where they spent the next 70 years.  First and foremost she was a loving wife and mother to her family while working for various companies allowing her to practice her favorite hobby of floral design. With her tireless efforts and passion for her craft she developed remarkable skills and an admirable reputation for her talents as a florist throughout the next several years at Sulphur Springs Floral.
She was very ambitious, never fearful of exploring various ways of utilizing her natural artistic abilities with the main goal of seeking ways in which she would be able to provide for her family. In the late 1980s she discovered her passion for creating artwork in the form of stained glass. It wasn't long before she gained a reputation for the quality and beauty of the pieces she designed which prompted the establishment of Reflections & Gifts, a stained glass shop. Her unselfish nature led to a passion to teach others the art of stained glass design which she did for several years. For those who knew her the ongoing ability to see her work in numerous places throughout  the county provides great peace and solace. Her family and her role as a wife, mother and grand-mother was the most important thing to her. This is where she drew her strength and left her legacy. Her devotion and loyalty and her never ending love for her family was unwavering. She truly lived her life with a consistent amount of dignity, compassion, and devotion for those who were fortunate enough to have been loved by her. Her life was devoted to providing for her family, never expecting anything in return.  For these reasons and so much more we say  Thank you my Darling, our Mother, our Grand-mommy, our Sister, our Aunt and our Friend for your love and devotion. You were a class act, a true inspiration and we will love you forever!
Laura is survived by her husband, Truitt Sewell, her sons, Loy and his wife Felisa of Quinlon, Roger Sewell, Larry Sewell, and Royce "Jake" Sewell,  all of Sulphur Springs, 14 grandchildren, several great-grandchildren, and numerous nieces and nephews, brothers, Max Buckner and his wife, LaRue, of Mustang, OK, Delmar Dan Buckner and his wife, Francis, of Oklahoma City, OK, and Reedis Buckner of Savannah, OK. She was preceded in death by her parents, infant son, Charles Edward, brothers, Herbert, Tommy, Van Leighton, Delbert, and Charles, and two sisters, Margaret and Jean.
Funeral services will be held at 2:30, Thursday, July 30, 2015, at West Oaks Funeral Home Chapel, with Rev. Paul Pogue, officiating. Interment will follow at Martin Springs Cemetery. Visitation will be held from 6:00-8:00 p.m., July 29, 2015, at West Oaks.