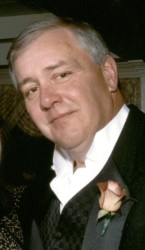 James B. "Jim" "JB" "Jimmy" Harrison, age 61, of Point, passed away Wednesday, July 8, 2015, at Trinity Mother Frances Hospital in Tyler.
He was born on October 13, 1953, in Courtland, New York to James Wilson and Barbara Morris Harrison.  He married Susan Sistrunk in Eureka Springs, AR on August 16, 2001. He worked 27 years as Fire Chief of OHFD, in Onondaga County, New York. He was a Firefighter in his heart!  He worked many jobs throughout his lifetime including corrections officer and truck driver.He loved to feed the ducks at the park in Emory…everyday he would go to feed them, and people around town knew him as the "Man who feeds the ducks".
He is survived by his wife: Susan Harrison, of Point; Step-son: Brian Newcomb, and wife, Nikki, of Southampton, N.J.; Step-daughter: Jamie Harrell, of Lindale; Step-son: Eric Kirkpatrick, of Chandler; Sister: Sue Hennessey, of Syracuse, N.Y.; Mother-in-law: Joan Avery, of Point; Sister & Brother-in-law: Erin Kirkland, and husband, Rick, of Point; Grandchildren: Jacob, Kaitlyn and Riley Newcomb; and Daniel and Dalton Harrell; Nephew: Jake Kitchens of Point; Sophie, his faithful feline; Many other loving family and friends.
Preceded by: Parents
In lieu of flowers please send memorial donations to R-Pal (Private Pet Rescue) P. O. Box 279, Emory, TX 75440 or to the Onondaga Hill Fire Department, 4831 Velasko Rd., Syracuse, N.Y. 13215 Phone: 315-492-9191.
Wilson-Orwosky Funeral Home of Emory is in charge of cremation arrangements.