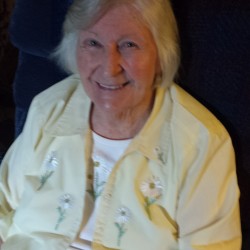 Jacqueline Eloyse Troy Semple, age 92, responded to her Lord's invitation to "Come up here" on July 10, 2015.  She is the wife of Don Semple to whom she was married 70 years.  She moved with her husband to Sulphur Springs, Texas January, 1986.
Mrs. Semple is the mother of five children, Donna Joan of Staunton, Virginia, Steven E. of Cooper, Texas, Cheryl Lee (Pierce) of Sulphur Springs, and Kenneth M. of Corsicana, Texas.  She was preceded in death by a daughter, Beverly Jean (Switala) of Littleton, Colorado.  She is survived by 4 grandchildren and 6 great grandchildren.
Mrs. Semple will be remembered for her service in the United States Navy (WAVES) as a Code Breaker during World War II, as a missionary in the Oriental Missionary Society, as a core leader and prayer chairman in Community Bible Study, and Christian Women's Club.  She enjoyed serving as a lay-witness volunteer and as a member of First United Methodist and Central Baptist churches of Sulphur Springs.
She was born in Haddonfield, New Jersey, the daughter of Fred and Lilly Troy.
A celebration service will be observed at Shannon Oaks Church on Monday July 13, 2015 at 10:00 am.  Cremation arrangements are under the direction of West Oaks Funeral Home.