by Kiah Collier, The Texas Tribune – July 20, 2015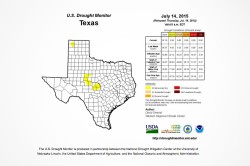 For the first time in more than five years, Texas is not in a drought.
While less than 3 percent of the state remains "abnormally dry," according to the latest U.S. Drought Monitor report, drought has disappeared from every other part of Texas.
Just three months ago, more than 35 percent of the Lone Star State was in some form of drought — either moderate, severe, extreme or exceptional, depending on the location. A year ago, it was more than 60 percent.
Texas has been in varying degrees of drought since April 2010, according to the Texas Water Development Board.
The water planning agency called the drought disappearance "big news" Monday in its weekly drought report, but also offered a reminder that the national monitor "favors soil conditions" and that "reservoirs are still low in West, Far West, and South Texas."
Those reservoirs serve as drinking water supplies for many small cities.
Enlargegraphic by: David Simeral
This article originally appeared in The Texas Tribune at http://www.texastribune.org/2015/07/20/texas-drought-done/.