by Alexa Ura, The Texas Tribune – July 10, 2015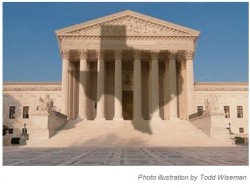 With most Texas counties now issuing marriage licenses to same-sex couples, legal experts and gay rights activists say it may take individual lawsuits to compel the handful of county clerks still refusing to comply with the U.S. Supreme Court's recent ruling legalizing same-sex marriage.
But gay activists eyeing those counties, and attorneys representing same-sex couples who ran into obstacles obtaining licenses, say they hope recalcitrant clerks will avoid spending taxpayer dollars on ill-fated, expensive lawsuits that could be avoided.
"We hope and expect that county clerks across Texas and the country will take a look at what happened [in Hood County] and do the right thing and follow the U.S. Constitution," said Austin Kaplan, an Austin attorney who represents a Granbury gay couple who obtained a marriage license on Monday after filing a lawsuit against the Hood County Clerk's office in federal court.
The Granbury couple, Jim Cato and Joe Stapleton, who have been together for 27 years, have said they will move forward with their lawsuit until the county clerk's office agrees to issue marriage licenses to all couples. Kaplan said they have not heard from Hood County Clerk Katie Lang, and her office would not say whether it is issuing same-sex licenses.
With a population of 53,921 people, Hood County is the most populous county among those still refusing to issue same-sex marriage licenses.
Texas counties' responses to the Supreme Court's ruling varied between those that immediately began issuing marriage licenses and those that took a few days to come around. But two weeks after the high court's ruling, at least six counties are likely refusing to issue same-sex marriage licenses, according to Texans for Marriage.
The other holdout counties as of July 7 were Dallam and Roberts counties in the Panhandle; Irion, Hartley and Loving counties in West Texas; and Hamilton County, located between Austin and Fort Worth.
(Of Texas' 254 counties, three counties have not been reached and 13 counties are planning to issue marriage licenses after "software changes" or receipt of updated marriage certificates, according to Texans for Marriage.)
On Thursday, a deputy clerk in Roberts County told The Texas Tribune that the clerk's office would issue licenses if requested by a same-sex couple.
Hartley County Clerk Melissa Mead said her office won't issue same-sex marriage licenses until the clock runs out on the 25 days that parties in the Supreme Court case have to ask for a rehearing of the case.
A deputy clerk for Loving County said her office was awaiting further direction from the attorney general's office. A spokeswoman for Texas Attorney General Ken Paxton said the only guidance from the state's top lawyer was the written opinion issued June 28, which said county clerks with religious objections can opt out of issuing same-sex marriage licenses but they should be prepared to get sued.
Calls to Dallam and Hamilton went unanswered.
Citing the Constitution and "natural law," Irion County Clerk Molly Criner is refusing to issue licenses.
"To keep my oath to uphold the Constitution, I must reject this ruling that I believe is lawless," Criner said in a press release from the Liberty Counsel, a national nonprofit that specializes in religious freedom litigation. "I have to stand for the Constitution and the rule of law."
Legal experts did not anticipate that a ruling in the Hood County case would force Criner and the other holdouts to begin issuing same-sex marriage licenses.
A judge's ruling in the Hood County case would likely only apply to those parties in that county, said Alexandra Albright, a law professor at the University of Texas at Austin. If the case went to the U.S. 5th Circuit Court of Appeals — which has appellate jurisdiction over federal courts in Texas — then any ruling would apply to the entire circuit, Albright added.
Now that the Hood County gay couple has obtained a marriage license, a federal judge may not immediately rule on the broader issue of whether the Hood County clerk's delay "caused constitutional damage," so other same-sex couples would likely have to file their own lawsuits, said Meg Penrose, a law professor at Texas A&M University.
"If this is not a class action, other individuals that are denied marriage licenses will need to sue on their own behalf or wait for a class action to be filed," Penrose said. "This could become costly for the county [or] clerk as individual lawsuits could mount quickly."
Kaplan, the attorney for the Hood County gay couple, said Texas lawyers were keeping an eye on "lawless clerks" and would likely take action if clerks continued to believe "there's some justification for failing to issue the licenses."
"We'll see what happens when that comes to head," he added.
After helping same-sex couples in eight other counties that initially refused to issue same-sex marriage licenses, Glen Maxey, a gay activist and the director of county affairs for the Texas Democratic Party, said he had heard from couples who wanted to get a license in Irion County and were seeking legal representation.
But with most counties already issuing same-sex marriage licenses, Maxey, the first openly gay legislator in Texas, said there wasn't much reason to file lawsuits in every holdout county — other than Irion County — "to make a point" because of the small population in those counties.
The populations in the holdout counties range from 86 people in Loving County to 8,199 in Hamilton County.
"Instead of paying $400 for legal fees for a couple to file a lawsuit, I would prefer to pay $500 for a moving van for them to get out of those hell holes," Maxey said. "We're down to the stems and seeds here."
Disclosure: The University of Texas at Austin and Texas A&M are corporate sponsors of The Texas Tribune. A complete list of Tribune donors and sponsors can be viewed here.
This article originally appeared in The Texas Tribune at http://www.texastribune.org/2015/07/10/lawsuits-needed-holdout-counties-gay-marriage/.