Kevin Woolley, Superintendent for the Saltillo ISD, is also the Director for Haystack Youth Choir. Haystack stands for Hopkins County Area Youth Singing to Anoint Christ the King. Woolley, his Haystack assistant director, four choir members and a manager, were all guests on KSST's Good Morning Show Wednesday where they discussed a July choir trip to New York City.
This one year old organization recently returned from a Summer Tour and a trip to New York City to sing at 6 different sites in the city. They also did some sight-seeing. Choir will return to rehearsal schedule this fall.
Part of the members came to KSST for the morning show Today, July 29th.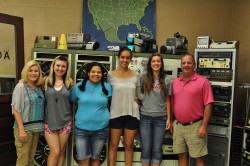 Susan Hefner, Assistant Director
Chasity Morgan, Mt Vernon Graduate
Mason McGill, Saltillo Senior
McKenzie Johnson, Saltillo Graduate
Monica Wartenbee, Saltillo Graduate
Kevin Wooley, Director and Superintendent of Saltillo ISD