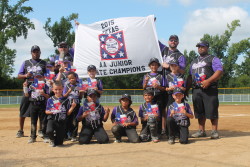 The Franklin County Dixie Peewees boys baseball team captured the Dixie State Championship this past Friday and Saturday in Longview.  The Peewees All-Star Team was coached by Chris Moss.  The Peewees are believed to be the first Franklin County Dixie boys baseball team to capture a state title.  The state championship is the end of the competition for the Peewees, whose players are six, seven and eight years old.
(Pictured: Back Row – Jerco Doss (Assistant Coach), Mike Simmons (Assistant Coach), Chris Moss (Head Coach), Jeremy Monroe (Assistant Coach); Middle Row – Pierson Clayton, Koby Holleman, Halen Miller, Jace Fountain, Dylan Clinton, Mehki Perry, Jayden Doss; Front Row – Trystan Simmons, Cade Monroe, Kam Doss, Brayden Duncan, Landry Moss)
The Under-8 All Stars started their season at the district tournament in Whitewright, TX where they were District Champs after going undefeated. Wins included: Commerce 17-1, Lamar Co. 15-0,
Delta Co. 11-1, Whitewright 11-3, Delta Co. 15-1, and Whitewright 12-10
Next they won the "North Regional State Champ" title in Texarkana, TX. Wins and losses included: defeating Pottsboro 13-11, Waskom 14-2, Hooks 9-4, a loss to Pottsboro 15-5, and a win against Pottsboro 18-4 and Hooks 10-4.
In the state tournament, they played Hemphill for the state title. It was a 2 out of 3 series in Longview, TX. The locals won the first game 13-4 and the second game 6-4.