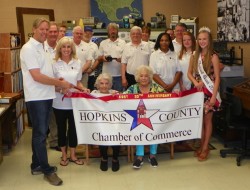 KSST would like to thank everyone who attended their 68 years of Broadcasting Excellence!
New owners, Rhonda & Chad Young thank you for celebrating 68 years of KSST Broadcasting, as well as the 50th Birthday of the KSST Studios with them at their Mixer last week!  It was a wonderful event filled with delicious food and drinks and TONS of nostalgic stories!    .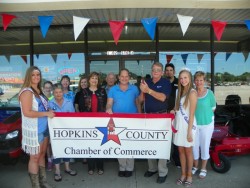 Thank you to everyone who attended the grand opening of Sears Hometown Store!  If you haven't been by in a while, stop by and visit with Mike Cato the owner, along with his friendly staff!  Check out their great selection of appliances, lawn equipment and tools.   They are located at 1402 Mockingbird Lane, 903-885-2135.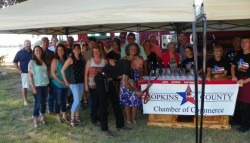 Don't miss the Grand Opening Joe's German Restaurant, Friday, July 31st!
Please call for reservations!  They are located at 575 County Road 3647,SS, 903-439-8226
Thank you to everyone who attended the special sneak peek dinner and ribbon cutting for the fabulous Joe's German Restaurant.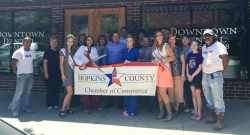 Thank you to everyone who attended the grand opening of Downtown Dental!
Dr. Kajuri Ramchand, welcomed a large group to her new office at 226 Main Street, Tuesday, July 28th!   Dr. Ramchand is accepting new patients of all ages for appointments on Mondays & Tuesdays.  She is in-network with and accepting most insurance companies and they will file the insurance claims for you.  For your convenience, they offer conscious sedation for patients who are uneasy with dental treatments.  Also, for the summer only, they are offering a 25% discount on any treatment over $500.  For more information on Downtown Dental or to make an appointment, please call 903-558-1868.
Taste of Dinner Bell, July 31st from 11:30-12:30 @ First United Methodist Church
You are invited to First United Methodist Church for a tasting of over 60 of the delicious recipes that will be included in the Feed My Sheep Cookbook being published this fall by the Dinner Bell cooks.  In case you aren't familiar with the Dinner Bell…The Dinner Bell a program for anyone who needs a hot meal.  Every Wednesday, the cooks for the Dinner Bell, prepare a delicious meal for the community…all anyone has to do is show up.  In order to keep this fabulous program in Sulphur Springs, the cooks are creating this fabulous cookbook with all of the proceeds going to the Dinner Bell.  If you would like to sample the food, please call First UMC at 903-885-2185 or Sharon Hughes at 903-885-3282 to RSVP by July 24th.  We will keep you posted on when and where the cookbooks will be available.
Bargains & Treasures Rummage Sale, Saturday, Aug 1st , 8am-4pm for Reilly Springs Community Center
The Reilly Springs Community Center is hosting a bargains and treasures fundraiser rummage sale, Saturday, August 1st from 8-4 @ 109 CR 1439 next to Reilly Springs Cemetery off FM 1567 East.  Proceeds will benefit building maintenance and repairs.  If you have furniture, working appliances, household goods, toys or other items to donate, please call and someone will pick it up!  Contact 903-438-3568 or 903-243-4138 or email [email protected]
Hearts of Life Animal Rescue (HOLLAR)  Pet Adoption Day at Petsense, Saturday, August 1.
Debra Balkcom, HOLAR lead volunteer, said the adoption will be inside the building and will only be able to bring a few animals.  Please come early and make your selection.  Our no-kill animal shelter is full and 'dogs are the best examples of unconditional love," said Foster, owner.
Hot August Night, Saturday, August 15th-Civic Center Grounds…Featuring the After & Hawk Nelson
The Way Radio Group and Sulphur Springs Dodge present Hot August Night, Saturday, August 15th at the Civic Center Grounds.  The Hopkins County Volunteer Fire Departments, 9th Annual BBQ Cook-Off begins at 1pm.  Food Service Begins at 5pm and the Concert featuring The Afters & Hawk Nelson begins at 7pm.  You may get your tickets at itickets.com.
4th Annual Jace Jog, Saturday, August 29th, 5K Run/Walk and Kids Fun Run, Coleman Park
5K Run Walk begins at 8:00 a.m.; $25.00 Entry Fee.  Kids Fun Run at 7:30 a.m.; $5.00 Entry Fee (10 years and under will be held at Coleman Park (Soccer Field Side).  Register at Anytime Fitness and online:  rctregister.com.  Early registration –  July 15- August 14.  T-shirts guaranteed for 5K early registration.
We would like to welcome the following members to the Chamber of Commerce:
Managed Solutions Group
1203 Jackson St. North
Sulphur Springs, Tx  75482
888-354-6208
Kasey Tomasek
Computer Technology Services
Red River Credit Union
1335 S. Broadway, Ste. 20
Sulphur Springs, Tx  75482
903-735-3164
Ryan Brook
Banks & Mortgage Companies
That's all for now…have a GREAT week!