Thank you to everyone who attended the ribbon cutting for North Texas Power Shopper.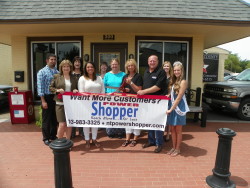 Jeff & Lois Schollmeyer held the ribbon cutting at the chamber and explained to the crowd that they were retired military, brought his wife home to her roots, and wanted to start a business that would benefit both the buyer and the seller. Jeff explained, "Connecting consumers with local businesses is what North Texas PowerShopper is all about.  PowerShopper is a high gloss full color magazine packed full of valuable restaurant, retail, and services coupons.  Distribution is via the US Postal service direct to 50,000 homes in Hopkins, Hunt, and Rockwall counties.  Flat rates include ad design, printing, direct mail delivery, and an online profile linked to client websites. Learn more at www.ntpowershopper.com"or call 803-983-3325.
S. Public Library to the Rescue.  Summer Reading Program Theme "Every Hero has a Story"
Research is clear that children who don't read during the summer can lose up to three months of reading progress.  Sustained summer learning opportunities lead to higher graduation rates, better preparation for college, and positive effects on children's self-esteem, confidence and motivation.  Every Hero has a Story theme covers the values that make a superhero really super: trustworthiness, respect, responsibility, fairness, caring, and citizenship.  Pick up a calendar at the library or check the website www.sslibrary.org.  Story time is Tuesday 10am and Thursday 6pm.  We will have a Brett Roberts' magic show and end the summer with a huge Community Read in called Hero-town from 6-8p.m. July 30 with food and local heroes.  Don't miss the wonderful activities.
KSST invites you to celebrate 68 years of Broadcasting Excellence, Thursday, July 23rd from 4-7pm
New owners, Rhonda & Chad Young invite you to celebrate 68 years of KSST Broadcasting, as well as the 50th Birthday of the KSST Studios with a Business after Hours Mixer!  The event will go from 4-7!  This is a great opportunity for you to tour the beautifully remodeled studio/broadcasting museum, have great food & beverages, network with other business men and women AND have a great time!  KSST Studio is located at 717 Shannon Road.
Grand Re-Opening & Ribbon Cutting for Sears, Friday, July 24th at Noon
  3rd Annual HCSO Music/Comedy Revue/Dinner/Auction, Friday, July 24, 5 p.m., Civic Center
The Hopkins County Sheriff's Office and Sheriff Butch Adams sponsor this event to help support the Hopkins County D.A.R.E. program that reaches out to each fifth grade student in every rural school in Hopkins County.  Stephen Pride is the special guest for this annual event which will not only include music and comedy but also dinner and a silent auction.  The silent auction begins at 5 p.m., which includes great items such as a trip to Sea World and patio furniture & grill.  The Barbeque Dinner, w/drink, is $5.00, catered by Big Smith Bar-B-Q, and starts at 6 p.m.  Entertainment starts at 7 p.m. with Monty Tipps and Main Street Band, "The C" Dale Cummings, Tissh George, Cousin Cedric, Brad Cummings, Wiser and special guest Stephen Pride.  Tickets to the concert are $10.00 14-adult.  Ages 13-under free.  Students from rural schools who wear their D.A.R.E. shirts will be admitted free.  All proceeds of the night go to D.A.R.E.  It takes about $2,500 a year to fund all the T-shirts, books, pencils, certificates and other material for the siz county schools.  Their curriculum discusses the benefits of living a safe and healthy lifestyle.  Tickets are still available at Sulphur Springs Dodge and the sheriff's office for $50.00 each or three for $100.00 for chances to win a 2015 Chrysler 200 Limited.
Summer Children's Workshop Presents "Christmas In July", Main Street Theatre, July 23 – 26, 7 p.m.
Show starts at 7 p.m.  Tickets, $10.00 each,  may be purchased in advance or at the door.  Call 903-885-0107 for advanced tickets.  Students from ages 7-17 will be performing in this play and they promise to give you a performance you won't forget.
Taps & Throttles Bike Rally/Concert/Festival for Richard Darling, Saturday, July 25, 8 a.m., Muddy Jakes
The Taps and Throttles Benefit will be the first in an annual event that will raise capital each year for a new individual who needs help in the community.  Darling, this year's recipient suffered a brain aneurism and has over $65,000 in medical bills.  Registration begins at 8 a.m. at Muddy Jakes, with breakfast tacos being served during the sign-up.  From 10-3 the bike journey will include stops at the VFW, Fosters, East Fork, Gilligan's and Hartline,  At 6 p.m., bands will begin while there will be a poker run, 50/50 raffle, silent auction and best bike contest.  Davis Street will be closed off  for  vendors, music, and dancing to the Birthright Blues Project and Original 501 bands until midnight.  Don't miss this worthwhile and exciting event!
Grand Opening & Ribbon Cutting for Downtown Dental, Tuesday, July 28th at Noon!
Dr. Kajuri Ramchand, would love to meet you and welcome you to their new office at 226 Main Street, Tuesday, July 28th at Noon!  Dr. Ramchand is accepting new patients of all ages for appointments on Mondays & Tuesdays.  She is in-network with and accepting most insurance companies and they will file the insurance claims for you.  For your convenience, they offer conscious sedation for patients who are uneasy with dental treatments.  Also, for the summer only, they are offering a 25% discount on any treatment over $500.  For more information on Downtown Dental or to make an appointment, please call 903-558-1868.
Male Senior Citizens Cook-Out and games at the Senior Citizens Center, Thursday, July 30, Noon.
All male senior citizens are invited to attend.  Good food, good fun, and always good fellowship.
Taste of Dinner Bell, July 31st from 11:30-12:30 @ First United Methodist Church
You are invited to First United Methodist Church for a tasting of over 60 of the delicious recipes that will be included in the Feed My Sheep Cookbook being published this fall by the Dinner Bell cooks.  In case you aren't familiar with the Dinner Bell…The Dinner Bell a program for anyone who needs a hot meal.  Every Wednesday, the cooks for the Dinner Bell, prepare a delicious meal for the community…all anyone has to do is show up.  In order to keep this fabulous program in Sulphur Springs, the cooks are creating this fabulous cookbook with all of the proceeds going to the Dinner Bell.  If you would like to sample the food, please call First UMC at 903-885-2185 or Sharon Hughes at 903-885-3282 to RSVP by July 24th.  We will keep you posted on when and where the cookbooks will be available.
Bargains & Treasures Rummage Sale, Saturday, Aug 1st , 8am-4pm for Reilly Springs Community Center
The Reilly Springs Community Center is hosting a bargains and treasures fundraiser rummage sale, Saturday, August 1st from 8-4 @ 109 CR 1439 next to Reilly Springs Cemetery off FM 1567 East.  Proceeds will benefit building maintenance and repairs.  If you have furniture, working appliances, household goods, toys or other items to donate, please call and someone will pick it up!  Contact 903-438-3568 or 903-243-4138 or email [email protected]
Hearts of Life Animal Rescue (HOLLAR)  Pet Adoption Day at Petsense, Saturday, August 1.
Debra Balkcom, HOLAR lead volunteer, said the adoption will be inside the building and will only be able to bring a few animals.  Please come early and make your selection.  Our no-kill animal shelter is full and 'dogs are the best examples of unconditional love," said Foster, owner.
Hot August Night, Saturday, August 15th-Civic Center Grounds…Featuring the After & Hawk Nelson
The Way Radio Group and Sulphur Springs Dodge present Hot August Night, Saturday, August 15th at the Civic Center Grounds.  The Hopkins County Volunteer Fire Departments, 9th Annual BBQ Cook-Off begins at 1pm.  Food Service Begins at 5pm and the Concert featuring The Afters & Hawk Nelson begins at 7pm.  You may get your tickets at itickets.com.
4th Annual Jace Jog, Saturday, August 29th, 5K Run/Walk and Kids Fun Run, Coleman Park
5K Run Walk begins at 8:00 a.m.; $25.00 Entry Fee.  Kids Fun Run at 7:30 a.m.; $5.00 Entry Fee (10 years and under will be held at Coleman Park (Soccer Field Side).  Register at Anytime Fitness and online:  rctregister.com.  Early registration –  July 15- August 14.  T-shirts guaranteed for 5K early registration.
That's all for now…have a GREAT week!