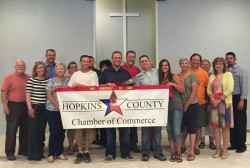 Thank you to everyone who attended the ribbon cutting for 1st Assembly of God
Reverend Rusty Posey greeted guests into their almost completed, beautifully renovated sanctuary at 1st Assembly of God, 434 Jefferson Street.
S. Public Library to the Rescue.  Summer Reading Program Theme "Every Hero has a Story"
Research is clear that children who don't read during the summer can lose up to three months of reading progress.  Sustained summer learning opportunities lead to higher graduation rates, better preparation for college, and positive effects on children's self-esteem, confidence and motivation.  Every Hero has a Story theme covers the values that make a superhero really super: trustworthiness, respect, responsibility, fairness, caring, and citizenship.  Pick up a calendar at the library or check the website www.sslibrary.org.  Story time is Tuesday 10am and Thursday 6pm.  We will have a Brett Roberts' magic show and end the summer with a huge Community Read in called Hero-town from 6-8p.m. July 30 with food and local heroes.  Don't miss the wonderful activities.
SHOT & Shadow Ranch Clinic & Competition, Friday, July 17th & Saturday, July [email protected] Civic Center
The Stock Horse of Texas Association (SHOT) will be presenting a clinic Friday the 17th & competition Saturday July 18th at the Civic Center Improve your and your horse's skills in:  Ranch horse pleasure, working cow  horse, reining & ranch trail in a low-stress, friendly environment.  Coggins will be checked on site at entry.  Up in Smoke BBQ will be there both days!  Awesome Eats for just $6.  They have another great lineup of Clinicians this year and everyone always has a great time at this relaxed atmosphere. Flag Work – Billy Brenner; Cow Work – Mike Majors; Trail – Dwayne Rhea; Reining – Scott Buckley; Pleasure – Brian Sumrall.  It's only $125 for a chance to work with 5 Clinicians that's $25 a piece.
Sign up NOW to save on Late fees – www.stockhorsetexas.org   ALL Proceeds go towards Shadow Ranch Therapeutic Riding Center located right here in Sulphur Springs.  For more information, please call Marion at 214-604-8005.
Shadow Ranch Therapeutic Riding Center will host Dinner & a Movie–Civic Center, July 17th at 6:30.
If you would like to see a faith-based movie that was filmed right here in Hopkins County, then make plans to attend the showing of Steps of Faith, Friday, July 17th.  Doors open at 6:15 for RSVPs.  Dinner starts at 6:30 with the movie beginning at 7:00pm.  Space is limited so please call ahead at 903-345-0766.  They will also be raffling off a Savage 270 M/111 Rifle with 3x9x40 Bushnell scope, Harris bi-pod and Black Browning strap.  Its $10 per ticket or 3 for $20.  Tickets may be purchased at NE TX Farmers Co-op or by calling Marion Cox at 214-604-8005.
Reilly Springs Jamboree presents Nashville Recording Artist Gary Don Jones Jr., July 18th
Reilly Springs Jamboree will have special guest, Nashville Recording Artist Gary Don Jones Jr., Rising Texas Singer/Songwriter on Saturday, July 18th at 7pm.  The show will open with J.W. Kinkaid and the Hard Times Band.  Admission is just $10/person at the Reilly Springs Community Center at 109 CR 1439.  For more information please visit www.reillyspringsjamboree.com or call 903-438-3568
Ribbon Cutting for North Texas Power Shopper at the Chamber Office, 7/21 @ Noon
Please stop by the Chamber office next Tuesday, July 21st at Noon to meet Jeff Schollmeyer, owner of the North Texas Power Shopper!
Tubby Adkisson Memorial Mobile Mammography-July 23rd in Spring Village Shopping Center
All insurances accepted at Hunt Regional are also accepted for the Mobile Mammography Coach, including Medicare and Medicaid.  They can also help with payment resources for uninsured/income-eligible women or those who choose to pay cash. For help with payment resources please call The Bridge Breast Network at 214-821-3820 x26 or Jessie Bell, Texas AgriLife 903-590-2988.  To schedule individual screening mammograms, please call 903-408-5010. Appointments and pre-registration are requested
KSST invites you to celebrate 68 years of Broadcasting Excellence, Thursday, July 23rd from 4-7pm
New owners, Rhonda & Chad Young invite you to celebrate 68 years of KSST Broadcasting, as well as the 50th Birthday of the KSST Studios with a Business After Hours Mixer!  The event will go from 4-7!  This is a great opportunity for you to tour the beautifully remodeled studio/broadcasting museum, have great food & beverages, network with other business men and women AND have a great time!  KSST Studio is located at 717 Shannon Road.
Grand Re-Opening & Ribbon Cutting for Sears, Friday, July 24th at Noon
Grand Opening & Ribbon Cutting for Downtown Dental, Tuesday, July 28th at Noon!
Dr. Kajuri Ramchand, would love to meet you and welcome you to their new office at 226 Main Street, Tuesday, July 28th at Noon!  Dr. Ramchand is accepting new patients of all ages for appointments on Mondays & Tuesdays.  She is in-network with and accepting most insurance companies and they will file the insurance claims for you.  For your convenience, they offer conscious sedation for patients who are uneasy with dental treatments.  Also, for the summer only, they are offering a 25% discount on any treatment over $500.  For more information on Downtown Dental or to make an appointment, please call 903-558-1868.
Taste of Dinner Bell, July 31st from 11:30-12:30 @ First United Methodist Church
You are invited to First United Methodist Church for a tasting of over 60 of the delicious recipes that will be included in the Feed My Sheep Cookbook being published this fall by the Dinner Bell cooks.  In case you aren't familiar with the Dinner Bell…The Dinner Bell a program for anyone who needs a hot meal.  Every Wednesday, the cooks for the Dinner Bell, prepare a delicious meal for the community…all anyone has to do is show up.  In order to keep this fabulous program in Sulphur Springs, the cooks are creating this fabulous cookbook with all of the proceeds going to the Dinner Bell.  If you would like to sample the food, please call First UMC at 903-885-2185 or Sharon Hughes at 903-885-3282 to RSVP by July 24th.  We will keep you posted on when and where the cookbooks will be available.
Bargains & Treasures Rummage Sale, Saturday, Aug 1st 8a-4pm for Reilly Springs Community Center
The Reilly Springs Community Center is hosting a bargains and treasures fundraiser rummage sale, Saturday, August 1st from 8-4 @ 109 CR 1439 next to Reilly Springs Cemetery off FM 1567 East.  Proceeds will benefit building maintenance and repairs.  If you have furniture, working appliances, household goods, toys or other items to donate, please call and someone will pick it up!  Contact 903-438-3568 or 903-243-4138 or email [email protected]
Hot August Night, Saturday, August 15th-Civic Center Grounds…Featuring the After & Hawk Nelson
The Way Radio Group and Sulphur Springs Dodge present Hot August Night, Saturday, August 15th at the Civic Center Grounds.  The Hopkins County Volunteer Fire Departments, 9th Annual BBQ Cook-Off begins at 1pm.  Food Service Begins at 5pm and the Concert featuring The Afters & Hawk Nelson begins at 7pm.  You may get your tickets at itickets.com.
The Chamber of Commerce would like to welcome our newest members to the Chamber
West TN Expediting, Inc. 110 Como St. SS, 214-728-3239, Grant Hill, Trucking Company
North Texas Power Shopper-4043 Tracy Lane, Greenville, TX. 803-983-3325- Jeff Schollmeyer, Owner,
Marketing & Advertising Shopper
That's all for now…have a GREAT week!