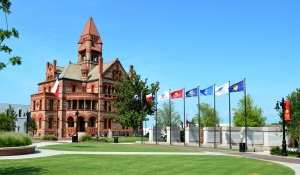 Hopkins County Judge Robert Newsom has had a lot on his plate lately. Thursday morning KSST News talked with Newsom about the NETO investigation that could have an impact on a county rural meals program and about budget preparation.
Newsom said that some funding that had been coming to the county may not be available. NETO funded meals for homebound will not be funded. County Commissioners along with Judge Newsom are speaking with an organization in Lamar County to provide the meals. He is unsure how many meals were being served in the county. Those figures have not been provided. These are not meals provided by the Meal-a-Day Center in Sulphur Springs. That is a separate entity.
The county budget should be posted on the county website by Friday evening. Revenues have been increased to four percent, which is two percent over expected revenues. Payments on the currently under construction jail could increase this year. Commissioners Court also hopes to raise all county salaries by 3 percent.