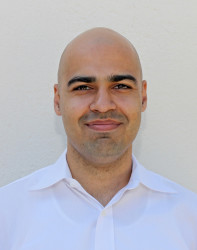 Bilal Batley, who served as Paris Junior College's assistant basketball coach in the Dragons' 2013-2014 season that culminated in a trip to the national tournament, is returning as head coach. That year the team won regular season and conference tournament championships, finishing with a record of 26-8 and ending the year in the Sweet 16.
He comes to PJC after serving as assistant men's basketball coach at the University of the Incarnate Word in San Antonio.
"It is a blessing – returning to PJC," said Batley. "You're talking about a basketball city in a football state; that's what makes this place so special. I've known Dr. Pam Anglin for a while and she's a wonderful president and a great leader for this institution. I'm following Chuck Taylor, a mentor of mine. You don't get opportunities to do that often. I'm looking forward to pushing this brand up higher and building on what the other great coaches have accomplished before I received this job. It's a dream come true."
UIW finished their season with a record of 18-11 and an appearance in the CollegeInsider.com Tournament. Senior Denzel Livingston earned all-conference and NABC first team honors and signed to play with the Houston Rockets NBA Summer League. This was UIW's second year in the NCAA Division I Southland Conference. Two players also earned conference all-academic honors.
"The Interview Committee was so impressed with Coach Batley," said PJC President Dr. Pamela Anglin. "We believe he has the ability to move our program forward both competitively and in developing the whole student athlete to not only be successful on the court but to be successful in life."
"I congratulate PJC on a wonderful hire," said former PJC Basketball Coach Chuck Taylor. "He's one of the best up and coming in the business. He'll do a wonderful job at PJC and take it to new heights. I've had an opportunity to work with him at a higher level. You couldn't have picked a better guy to take the program into the future."
From 2010 to 2012, Batley was assistant coach at Navarro College, helping them win the 2012 Region XIV tournament championship, earning a trip to the national tournament. The 2010-2011 Navarro team had a 20-win season and earned an All-Academic Team Award, having above a 3.0 GPA.
Former NBA player and Coach John Lucas hired him in 2009 as head of player development with John Lucas Resources. There he specialized in skill development to improve skill sets for both potential NBA draftees and veteran NBA players.
In 2009 Batley was assistant director of basketball operations at the University of Kentucky, which made an Elite Eight appearance, and so was part of that year's number one recruiting class in the nation. That Kentucky team sent five players to the NBA in the first round of the draft: DeMarcus Cousins, John Wall, Eric Bledsoe, Patrick Patterson and Daniel Orton.
He held the same role in 2008 at the University of Memphis, helping the team to a Sweet 16 appearance and working with Tyreke Evans, who was the fourth overall pick in the 2009 NBA draft.
He was graduate assistant coach at Indiana University in 2007-2008 in a season led by future NBA players Eric Gordon, Jordan Crawford, and D.J. White. Batley was an Oklahoma University student basketball manager 2004-2006, with two NCAA tournament appearances and a Big XII Conference Championship. There he earned his bachelor's degree in sociology, and went on to earn his master's degree in Health and Sports Sciences from the University of Memphis in 2014. His associate of science degree is from Navarro College.