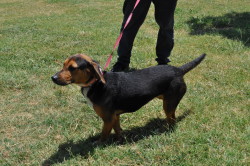 The Animal Shelter's Animal of the Week is Lucy, a 1-2 year old Beagle mix. Lucy has been at the Animal Shelter for a little over a week. She was given to the Animal Shelter by her owner who could no longer care for her.
"Lucy was given up by the owner who is very busy working and is also a full-time student," Animal Shelter Officer Barbi Blanch said. "The owner thought [Lucy] needed to go to someone that had more time for her."
Lucy is house-trained, and reacts well around other animals and humans as well as cats. She is very energetic but will calm down once petted. It's as if she seems to "melt into your hands," according to Blanch. Lucy has so far exhibited no unusual behavior that might warrant any concern, said Blanch. It is unknown what, if any, shots she has had. The Animal Shelter will vaccinate her again, and she is scheduled to have a rabies and heart-worm test soon.
"She is very sweet," Blanch said. "She is fairly calm. She just wants attention, somebody to lover her. We'd like to get her out of the Shelter. She needs to be in a happy home and not in a cage."
Lucy will be part of an off-site event this Saturday, August 1, at Tractor Supply from 11 AM to 4 PM. She will be accompanied by several cats that the Shelter will showcase.
"Lucy is actually going to be the only dog. We're trying to push the cats," Blanch said. "We want to reach out to the public and be seen because not everyone knows where the Shelter is but they do know where Tractor Supply is."