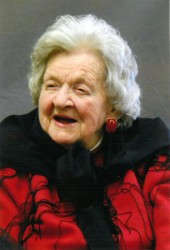 Adolphus Ermagene Poston, age 97, of Mineola, formerly of Alba, passed away Sunday, July 5, 2015 at Wood Memorial Nursing Home in Mineola.  Funeral service is scheduled for Wednesday, July 8, 2015, 10:30 AM, at Pleasant Ridge Chapel.  Rev. Pam Dountas will officiate. Interment will follow in the Pleasant Ridge Cemetery.  Visitation will be held Tuesday evening, 6:00-8:00 PM at the Wilson Bartley Funeral Home in Alba.  Wilson-Orwosky Funeral Home of Emory is in charge of all funeral arrangements.
Ermagene Poston was born on June 20, 1918, in Alba, to Alvis Otto and Essie Russom McKenzie.  She married G.G. Poston in Alba, on May 30, 1936.  She was a member of and taught Sunday School at First United Methodist Church of Alba.
Survivors include: Sons: James (J.D.) Poston of Alba, Eddie Dean Poston of Dallas, Andy Poston, and wife, Kay, of Tyler; Daughter: Nancy Wilson of Emory; Grandchildren: Jim Poston, Gilley Poston, Tiffany Wright, and Tara Rhodes; Great-grandchildren: Dakota Wayne Poston; Ashley Nelson; Lindsey Pond; Catarina Wright; Toby Rhodes; Madison Rhodes; Chelsey Poston; Great-great-grandchildren: Maddox Nelson; James Michael Poston; James Douglas Poston; Hensley Nelson; Special Friends: Vanessa Gee and Clarenca Wooten; A host of other loving family and friends.
Preceded by: Parents; Husband: Granville Poston; 1 Infant Son:  Gilly Poston;  1 Great-grandson: James Michael Poston; 5 Brothers; and 4 Sisters
Memorial donations may be made to Heart to Heart Hospice 7925 S. Broadway Ave., Suite 1140, Tyler, TX 75703  Phone: 
903-593-6619
or to The Humane Society's Pets Fur People No Kill Animal Shelter 1823 CR 386 Tyler, TX 75708  Phone: 
903-597-2471
.
Please sign the online guestbook at www.wilsonorwoskyfuneralhome.com.