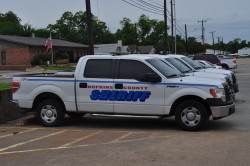 In a joint announcement before media members Thursday morning, confirming what some people have known for a long time, longtime Hopkins County Sheriff Butch Adams, a Democrat, made it official by announcing what he would not be seeking another term as sheriff. The sheriff's Chief Criminal Investigator Lewis Tatum said that he would be filing in November to run for sheriff as a Republican.
Sheriff Adams said he will have completed 20 years at the end of this term. He stated his goal had been to serve for 20 years and then retire. He was ambivalent regarding term limits. He said those who had worked under him had been most helpful and were the primary reason he had been reelected each year. The support of the people in the county has also made this an enjoyable job. He said that like all jobs one has good days and bad days but that overall, it had been enjoyable. He plans to travel and spend time with his grandkids along with a growing honey-do list. Adams said it is time for a younger person with more computer skills to have the job. His term will end at the conclusion of the warranties on the new jail facility being built now. Adams stated that Tatum would do an excellent job as sheriff and would have Adams support for the position.
With the announcement that Adams will not seek the office again, Tatum stated that he does intend to run for the office. Lewis said that he had been preparing for the sheriff's office by assisting Adams in dealing with the budget and working with Commissioners Court. Tatum complimented the work that Adams has done over the past 20 years. Tatum has worked with Adams all but one year during the 20 years. Tatum talked to the deputies and other investigators about his desire to seek the office. He said that Adams had worked hard to build the office and that he wants to continue to the work. Tatum entered CID in 2005. Making sure the jail runs right and maintaining jail standards, fighting the methamphetamine problem in the county, keeping the staff in place and hiring the best deputies possible, and making the citizens of the county happy will be his primary goal if elected. Tatum intends to continue to be involved in "doing exactly what I am doing" along with taking on the administrative work of the office. He said there would be a new CID officer appointed and that he would be limited in time available for investigations but he thinks the department will continue to be successful as it is now.