by Sophia Bollag, The Texas Tribune – July 18, 2015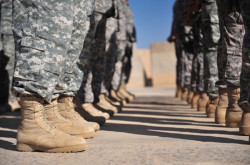 Texas Gov. Greg Abbott on Saturday authorized the Texas National Guard to be armed while on base following shootings at military facilities in Chattanooga, Tenn., that killed four U.S. Marines and a U.S. Naval officer. The gunman, Mohammad Youssef Abdulazeez, 24, was reportedly shot and killed by police.
Abdulazeez first opened fire at a military recruiting center in a Chattanooga strip mall.
"After the recent shooting in Chattanooga, it has become clear that our military personnel must have the ability to defend themselves against these type of attacks on our own soil," Abbott said in a statement. "Arming the National Guard at these bases will not only serve as a deterrent to anyone wishing to do harm to our service men and women, but will enable them to protect those living and working on the base."
Abbott called for National Guard personnel to be armed at military facilities across the state.
This article originally appeared in The Texas Tribune at Texas Tribune