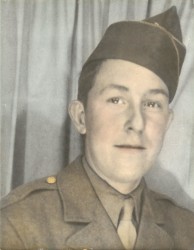 Wayne Dee Gowin, age 89, of Emory, passed away Monday, June 15, 2015, at his home.  Funeral service is scheduled for Friday, June 19, 2015, 2:00 PM at the Wilson-Orwosky Funeral Home Chapel in Emory.  Visitation will be Thursday evening, June 18, 2015, 6:00-8:00 PM.   Interment will be at the Dunbar Cemetery.  Bro. Mike Frazier will officiate the service.
Mr. Gowin was born on September 14, 1925, in Dunbar, to Rance Garfield and Carrie Belle Giles Gowin.  He proudly served our country in the U.S. Army.  W.D. worked many years at Ling-Temco-Vought.  He later retired, in 1988, after 19 years of service as Sergeant with the Mineola Police Department.  On January 4, 2003, he married Marie Rodgers in Emory.  He was of the Baptist faith.
Survivors include:  wife:  Marie Gowin of Emory; Daughters:  Rhonda K. Gowin of Emory, and Janet Lee Mitchell, and husband, Greg, of Sulphur Springs; Step-Daughter:  Sherry Ann Boyer, and husband, Donald, of Terrell; Step-Son:  Thomas Booth, and wife, Cherie of Haltom City; Grandchildren:  Andy Adcock, Gregory Dan Mitchell, and Carrie LeeAnne Gowin; Step-Grandchildren:  Numerous; Great-Grandchildren:  Jessie, Asa, Annaiese, Alexis, Alyssa, Austin, Ashton, Dalton, Dillon, Brooklyn and Kaycee; Special Friend:  Jo Anna Pounds of Emory; Numerous other loving family and friends.
Preceded by:  Parents; first wife, Norma Lee Kennemer in 2001; 1 son, Russell Wayne Gowin in 1999; 5 brothers; and 1 sister.
In lieu of flowers memorial donations may be made to Dunbar Cemetery, % Rita Myers, P. O. Box 962 Emory, TX 75440.