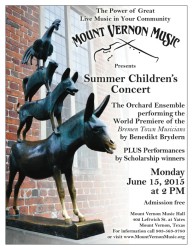 Mount Vernon Music partners with the Franklin County Library to present The Town Musicians, A Musical Adventure on Monday, June 15 at 2 p.m. in Mount Vernon Music Hall.
The Town Musicians was written this year for Mount Vernon Music by award winning composer Benedikt Brydern. A fresh take on the Grimm's fable "The Bremen Town Musicians," it tells a timeless story of cooperation, self-acceptance and bravery, with narration and original illustrations by artist Madeline Crist.
The Orchard Ensemble (flute, violin, viola and cello) will accompany colorful scenes depicting four animal heroes, a donkey, a dog, a cat and a rooster, as each finds his own way with his own musical style. Singers in the audience can even join in when the four characters sing their theme march.
The concert will begin with short performances by four winners of MVM's Betty Whitlock Scholarship awards: Carissa Stephens and Abby Phillips, piano, and Alex and Allen Barrett, violin.
Admission is free. Memberships in MVM start at $25 and are good for the entire season from June 1 through May 31. For more information call Mount Vernon Music at 903-563-3780, or visit www.mountvernonmusic.org.