Research is clear that children who don't read during the summer can lose up to three months of reading progress and that loss has a cumulative long-term effect.  Sustained summer learning opportunities lead to higher graduation rates, better preparation for college, and positive effects on children's self-esteem, confidence, and motivation. SULPHUR SPRINGS PUBLIC LIBRARY TO THE RESCUE!!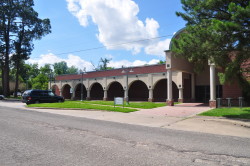 The Summer Reading Program theme is "Every Hero has a Story" and the values that make a superhero really super are: trustworthiness, respect, responsibility, fairness, caring, and citizenship.
Pick up a calendar at the library or check our website www.sslibrary.org
Details to remember:
Storytimes will be held Tuesday 10am and Thursday 6pm. We are building on the Superhero theme and each craft will be part of a superhero costume.  Last week we made superhero masks.  They were definitely Super!
Our big program will feature Brett Roberts' magic show!  We also have two showings for his show 2pm and 6pm! Please remember, the 2pm magic show is at City Hall and can accommodate everyone, the 6pm show will be at the library and we will have signups for a maximum of 50 children to attend.
To top it all off there will be a huge Community Read In called Hero-town!  From 6-8pm July 30, our local heroes will be on hand showing the kids how important reading is to them!  Hot dogs, desserts and drinks will be served. Special thanks to Brookshire's and Grocery Supply!!
Every child that turns in a reading log will get a prize – top reader prizes will also be awarded July 30 at 7pm!
Submitted by Hope Cain, Director, Sulphur Springs Public Library
Hope Cain, Director
Sulphur Springs Public Library
611 N Davis St
Sulphur Springs, TX  75482