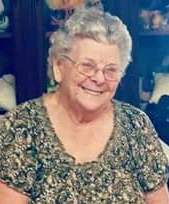 Ozella Mae Young, age 88, of Garland, formerly of West Tawakoni, passed away, Saturday, June 20, 2015, at the Senior Care Beltline in Garland, TX. Funeral service is scheduled for
1:00 PM
,
Wednesday, June 24, 2015
, at the Wilson-Orwosky Funeral Home Chapel.  Visitation is 1 hour prior to the funeral service at
12:00 Noon
.   Interment will be in Dougherty Cemetery, Emory.
Ozella was born on August 9, 1926, in Row, OK, to Jesse Horton and Blanche Mae Ellis Allen.  She married William J. Young, in Rockwall, in December 1966. She worked for many years in food service at the Cafeteria at E-Systems in Garland.    She was a long time member of the Church of Christ of Emory.
Survivors include son:  Roy Lee Henderson, and wife, Janice Kay, of West Tawakoni; Daughter: Linda Lou Dehart, and husband, Dennis, of Garland; Brother:  James Allen, and wife, Betty Jo, of Rogers, AR; Sister:  Cathy Renee Whipkey, and husband, Richard, of Livermore, CA; Grandchildren: Teresa, Leslie, Tina, Rhonda, Royce, Billy, Mickey, Donna Lynn, and J.W.; Great-Grandchildren: 20; Great-Great-Grandchildren: Numerous; Sisters-in-law: Wanda Allen & Jean Allen; Brother-in-law: Bud Bryant; Numerous other loving family & friends.
Preceded by: Parents, 1st Husband: Roy Monroe Henderson, 2nd Husband: William J. Young, 1 Son: Mickey Monroe Henderson in 1969; 3 Brothers: Elvan Allen, Jessie Allen, and Kendall Allen; 1 Sister: Barbara Bryant in 2015.