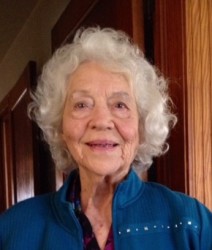 Funeral services for Mary Olivia Mercer, age 98, of Miller Grove will be conducted at 2:00 p.m., Sunday, June 28, 2015 at Miller Grove Methodist Church with Rev. Harold Strickland officiating.  Interment will follow at Lynch Cemetery with John Whitehead, Michael Whitehead, Phillip Whitehead, Ray Mays, Joe Mosher and David Hatcher serving as pallbearers.  Honorary Pallbearer is Cletius Brown.  Visitation will be from 6:00 to 8:00 p.m., Saturday, June 27, 2015 at West Oaks Funeral Home.
Mrs. Mercer passed away Wednesday, June 24, 2015 at Hopkins County Memorial Hospital.  Mrs. Mercer was born on October 25, 1916 in the Lynch Community in Rains County, the daughter of J. N. and Lena Pearl Stuart Stockton.  She married Leon Mercer in 1934 in Lone Oak.  He preceded her in death.    Mrs. Mercer worked for Hager Slacks before she went to Dallas and worked for Texas Instrument, she then owned and operated a General Store and Marina on Lake Tawakoni.  She was a member of Miller Grove Methodist Church.
She is survived by her daughter, Gail Hatcher of Miller Grover son, Gerald Mercer of Grand Saline, grandchildren, Lynette Holsey, Brenda Brown, Ray Mays, Sherry Gregory, Donna Whitehead, Terry Mays and David Hatcher, great-grandchildren, Nicole Stewart, Allison Mosher, Tanner Mays, Danielle Mays, Aubry Eastman, Trevor Mays, Justin Mabe, Jordan Mabe, Jensen Mabe, Michael Whitehead, Phillip Whitehead, Damian Mays, Devin Mays and Dawson Mays, great-great grandchildren, Benjamin, Van, Trayden, Jaxon, Taylor Joelle, Taylor, Caleb and Hunter.
She was preceded in death by her parents, grandson, Mike Hatcher, great-grandson, Matthew Hatcher.
Memorials may be made to Miller Grove Methodist Church, P.O. Box 437, Cumby, TX. 75433.
Arrangements are under the direction of West Oaks Funeral Home.