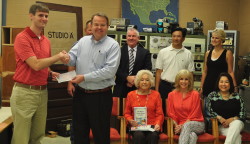 Sidewalks for the Bright Star Baseball fields will be completed for the fall season thanks to two donations made to the City of Sulphur Springs Friday morning in the broadcast museum at KSST. The donations totaling $7,240 were presented to City Manager Marc Maxwell and Councilman Craig Johnson by Mary Bonham and John Campbell with the Sulphur Springs Lions Club.
City Manager Marc Maxwell said the new sidewalks will connect the parking lot to the North Field, that field to Field 2, than now has sidewalks, and both fields to the concession stand area at Buford Park. Construction will begin in time for the sidewalks to be completed before the Bright Star Fall Season begins.
Last fall, Mary Bonham decided to publish a cookbook, Ms. Mary's Down Home Cookin'. The book contains family recipes garnered $5,000.She also wanted to donate the proceeds from the book to a worthy cause. Bonham said she hoped to present another check next year to a worthy cause.
The Lions Club readily partnered with Ms. Bonham when they learned that funds set aside for Bright Star could complete the sidewalk project.
Veronica Yost, member of the Bright Star board, said the donation will assist special needs players' access to the playing fields.