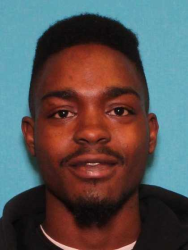 The elusive Tilton Joshua Isaiah Mapps of Greenville was arrested in Fort Smith Arkansas Monday, according to Police Chief Jay Sanders. Mapps was apprehended traveling with his girlfriend.  Texas Ranger John Vance, U.S. Marshalls,  and SSPD CID Sgt. David Gilmore assisted by the Ft. Smith Police made the arrest.
The 20-year old black male had been considered armed and dangerous. Mapps was wanted in the shooting death of Jonathan Trahern Young, 26, of Sulphur Springs. The shooting took place June 8, at 2 a.m. Sulphur Springs Police Dispatch received a 9-1-1 call regarding a shooting in Pacific Park. Young was taken by EMS to Hopkins County Memorial Hospital where he died of multiple gunshot wounds. Witnesses at the scene identified Mapps as the shooter according to SSPD.
Mapps had connections not only in Greenville but in other areas of Hunt County as well as in Dallas County. Texas Ranger John Vance, the U. S. Marshall's office, and the Criminal Investigation Division of the Texas Department of Public Safety have been assisting in the search for Mapps. The timing of Mapps return to Sulphur Springs depends on his waiving extradition.
Previously, Gilmore had said, "We really need to get this subject in custody." He said Mapps family members and associates of Mapps are not law abiding citizens and were assisting Mapps in eluding law officers.