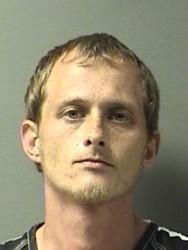 A 27-year old Sulphur Springs man was arrested after he reportedly struck his wife with fists and threatened her with a knife during a disturbance. Hopkins County Sheriff's deputies were sent to a report of a disturbance on County Road 1190 at 2 p.m. Thursday.
The woman told police her husband had struck her several times and held a knife to her throat. There were signs that the woman had been struck and had been nicked by the knife. After the disturbance, the man took their child and left the home. Deputies arrested the man on County Road 1190 near FM 1567.
Timothy Dewayne Brown was charged with aggravated assault with a deadly weapon before Justice of the Peace Brad Cummings who set bond at $50,000. As a condition of bond, JP Cummings ordered Brown to wear a device that can be monitored by GPS.