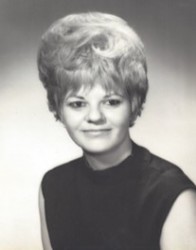 Linda was born in Sulphur Springs, Texas, on April 7, 1940, and fulfilled her life on May 31, 2015. Her husband, Glenn, preceded her in death, as did her parents, John and Eula Howard, and her siblings: Lloyd, Thomas, Ed, Mickey, Sybil, Johnnie and Nell.
Among her surviving relatives who continue to give thanks for her life are nephews Rev. Michael R. Jackson of Carrollton, Richard L. Jackson of Sulphur Springs, and Bill A. Jackson of Conroe. Linda was a faithful disciple of Jesus Christ, a cherished member of her family, a loyal friend to others, a dedicated worker and a cautious optimist.  Her achievements in life came not from running after goods that do not enlarge and wealth that does not enrich, but rather in taking pleasure in kind deeds, bearing suffering, sharing enthusiasm and a spirit of gentleness and love.
She worked in retail sales at Wynnewood Village in Oak Cliff, was a member of the physical therapy department of a Dallas area hospital, and worked in food service at a number of restaurants in Sulphur Springs, where she and her husband were owners and operators of catering services and neighborhood grocery stores. Linda's last days were lived at Sulphur Springs' Sunny Springs Nursing Home, whose staff showed her great care, compassion and concern.  For that, her family remains sincerely grateful. Services will be held at West Oaks Funeral Home on Saturday, June 6, at 10:00 a.m., and interment will be at Evergreen Cemetery Field, Paris, Texas.
"Those who work well in the depths more easily understand the heights, for indeed in their true nature they are one and the same."  George MacDonald