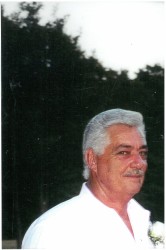 A celebration of life for Larry Meuir will be held on Saturday, June 20, 2015 at 1:00 p.m. at Shannon Oaks Church.
Larry passed away on Monday, May 25, 2015 at Carriage House Manor.  He was born the son of Walter and Bessie Ray (Tallant) Meuir on June 6, 1945 in Collin County.  He married Linda Anderson on July 21, 2000 in Grand Prairie.  He was a retired tool inspector/manager with Vought Aircraft Industries and a member of the Shannon Oaks Church. Larry was a brilliant man.  He was a jack of all trade and a master of most.  Larry loved his family and His Lord and Savior. If it was broken he could fix it.  If you could imagine it, he could build it.  He possessed more God given talents than anyone I've ever known. Larry loved and marveled at all of God's creations.  He loved to watch hummingbirds feed in the mornings and the deer in our backyard in the evenings.  He enjoyed repairing and building things for people in need.  Larry will be remembered for his beautiful smile and contagious laughter and sense of humor.  He will be greatly missed by all those who knew and loved him.
He is survived by his wife, Linda of Sulphur Springs; son, Mike Dennis and wife, Holley of Sulphur Springs; daughters, Christina Elaine Koonce of Blue Ridge, Terrie Lannette Mata of Grand Prairie and Holly Jo Rollins of Blue Ridge; grandchildren, Callie Dennis, Cody Dennis, Rickey Koonce, Jace Koonce, Brittanie Lamas, Corttanie Slocum, Erica Riley, Jacob Gafford, Skyler Gafford, Kolton Rollins, Kellen Rollins, Kaeson Rollins and Hidson Rollins; five great-grandchildren and brothers, Jim Meuir and wife, Karen of Port Angeles, WA and Ben Meuir of Navajo Dam, NM.
He was preceded in death by his parents and one brother, Tommy Meuir.
In lieu of flowers, please make donations to the Shannon Oaks Church Benevolence Fund.