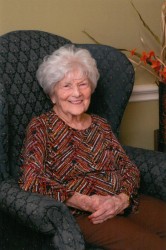 Funeral services for Joyce Perimon, age 87 of Sulphur Springs will be held at 10:00 a.m., Thursday, June 18, 2015 at Murray-Orwosky Funeral Home with Dr. Jim Barksdale and Oliver Matthews officiating.  Interment will follow at Restlawn Memorial Park with Larry Perimon, Clinton Cooper, Earnie Perimon, Bill Perimon and Mike Perimon serving as pallbearers.  Honorary pallbearers are Charles Darr and Ed Thornton.  Visitation will be held from 6:00 to 8:00 p.m., Wednesday, June 17, 2015 at Murray-Orwosky Funeral Home.
Mrs. Perimon passed away on Monday, June 15, 2015 at Hopkins County Memorial Hospital.  She was born in Golden, OK on August 21, 1927, the daughter of Cleo and Opal (Henry) Clifton.  She married Edwin Oliver Perimon on January 9, 1945 in Idabel, OK.  He preceded her in death in 2013.  She was a missionary for the Southern Baptist Convention and a member of the First Baptist Church – Sulphur Springs.
Survivors include: daughters, Brenda Baker and husband, Darrell of Silver Spring, Maryland and Marlyne Perimon of Paris; son, Larry Perimon and wife, Donna of Fremont, CA; grandchildren, Rachel Reiter, Laura Barlow, Joyce Jones, Lydia Nichols and Capt. Clinton Cooper of the U.S. Air Force; seven great-grandchildren; two great-great-grandchildren; brothers, Oliver Matthews of DeQueen, AK and Frankie Don Clifton of Fort Mead, Maryland.
She was preceded in death by her parents and one sister, Mildred Clifton.
Memorials can be made to Southern Baptist International Mission Board, P.O. Box 6767, Richmond, VA 23230-0767 or Legacy Hospice Hope Foundation, P.O. Box 131030, Tyler, TX  75713.