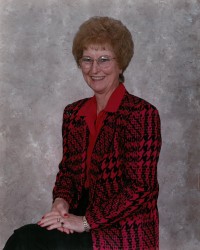 Funeral Services for Jo Ann Prince will be held at 2:00 p.m. Thursday, July 2, 2015 with Pastor Gary Thompson officiating.  Jo Ann passed away on Monday, June 29, 2015 at her residence.  She was born October 1, 1938 to Homer and Pearl Ferrell of the Peerless Community.
Funeral services will be held at Murray-Orwosky Funeral Home.  Visitation will be held from 6:00 to 8:00 p.m. on Wednesday, July 1, 2015 at Murray-Orwosky Funeral Home.  Interment will follow at Posey Cemetery with Kevin Keen, Justin Keen, Bryan Prince, Blake Prince, Blake Peavy and Sam Tatum serving as pallbearers.
Jo Ann graduated from North Hopkins High School as Salutatorian of her class and was an "All State Guard" for the North Hopkins basketball team "The Panthers" in 1956.  After graduation, she went to Dallas and worked for Southwestern Bell approximately a year before she and her husband moved back to Commerce.  She worked for Montgomery Ward store in Greenville for several years and was affiliated with the Beckham Baptist Church.
She and Calvin moved to the Rockwall area in the late 50's and in 1968, she began her banking career.  After thirty-two years of banking in the Garland, Bank Texas S.S. and then Sulphur Springs State Bank, which later was Alliance Bank.  While working at Alliance Bank, she worked in a number of departments and when she retired on December 15, 2000, she was a Loan Review Officer.  Jo Ann loved working in her yard, reading and was a cancer patient and had stem cell transplant on October 30, 2009.
Jo Ann is survived by grandsons, Bryan Prince of Sulphur Springs and Blake Prince of Garland; granddaughter, Amy Prince of Sulphur Springs; great-grandchildren, Alyssa Alexander and Isaac Alexander, both of Sulphur Springs; two sisters, Della Wright of Sulphur Springs and Patsy Jane Patridge of Pickton; brother, Ray Ferrell of Sulphur Springs; two sister-in-laws; one brother-in-law, "adopted" daughter, Sharon Moore, best friend, Linda Tatum and a host of nieces, nephews, cousins and friends.
She was preceded in death by her parents; husband; two sons, Robert Gerry Prince and Calvin DeWayne Prince; one brother, Sedell "Red" Ferrell and one sister, Katherine Hooten.
She loved visiting with her family and working and campaigning for Democrats!!!!!!!
Memorials can be made to the Posey Cemetery Association in care of Johney Ferrell at 6761 CR 4760, Sulphur Springs, TX  75482.