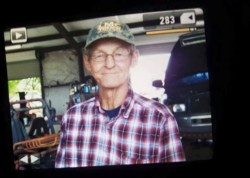 Funeral Services for Donnie "Red" Massey, age 63 of Cumby will be held at 10:00 a.m., Monday June 15, 2015 at Murray-Orwosky Funeral Home with Bro. David Burns officiating.  Interment will follow at Brashear Cemetery with Eldon Turner, Ed Robertson, Robert Huggett, Kevin Rose, Jeff Sexton and Paul Laco serving as pallbearers.  Honorary pallbearers are Mr. Massey's nephews. Visitation will be held from 6:00 to 8:00 p.m., Sunday, June 14, 2015 at Murray-Orwosky Funeral Home.
Donnie "Red" passed away on Thursday, June 11, 2015 at Hopkins County Memorial Hospital.  He was born on February 22, 1952 in Chattanooga, TN the son of James (Jim) and Lorene (Woody) Massey.  He married Cora Adair on August 16, 1974 in McKinney.  He was a retired mechanic and of the Baptist faith.
Survivors include: wife, Cora of Cumby; sons, Donnie Massey Jr. of Cumby and Lonnie Massey of Sulphur Springs; grandchildren, Julie Massey, Kyle Massey, Charles Massey, Richard Massey and Kate Massey; brothers, Skeeter Massey, Charles Massey, Pat Massey and Johnny Massey; sisters, Brenda White, Linda Massey, Mary Kidwall, Barbara Edmons, Linda Bilo and Mildred Snodgrass.
He was preceded in death by his parents and three brothers, Butch Massey, Raymond Massey and Tommy Massey.
Memorials can be made to Murray-Orwosky Funeral Home, 419 Gilmer St., Sulphur Springs, TX  75482 for the account of Donnie "Red" Massey, Sr.