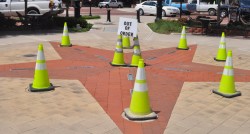 "When will the fountain on Celebration Plaza be working again?" That question seems to be a top ten citizen's query for Sulphur Springs City Manager Marc Maxwell. Ksstradio.com reported the fountain's drought Monday morning in an article stating "KSST reached out to the City of Sulphur Springs regarding the 'Out-of-Order' sign in the fountain. The City is not sure what really happened to the fountain, and is not exactly sure when it will be back in order. The City of Sulphur Springs is working diligently to get the problem fixed as quickly as possible so everyone can enjoy their hot summer in the water." Wednesday morning, Maxwell said it will be several days or it could be several weeks before the foundation can be repaired.
Maxwell told KSST News, "It has been one problem right after another." The fountain was knocked out by an electrical surge caused by a thunderstorm. That problem was fixed. Then, a pipe in the control box burst and filled the control box with water knocking out the electrical controls, the motors, and other components. "Thank God we had insurance on it," Maxwell said.
The motors were saved but not all the electrical controls could be salvaged. The city is awaiting the needed controls. Maxwell also said that the city is seeking a better way of piping water to the control box. The piping in the unit met the manufactures specifications. However, there are some changes that could help safe guard the control box.
If the main control panel must be replaced, the cost will be $19,000 and will create a five to seven week wait. Insurance will cover much of the cost. Maxwell said the city will have the fountain up and running as soon as humanly possible.