by Cindy Roller and KSST'S Enola Gay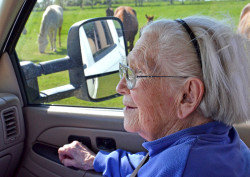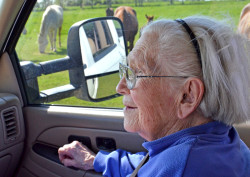 Green acres spread so far and wide on one of the oldest family-owned dairy farms in Hopkins County which is over seen by one of the oldest living dairywomen, Wilma White. Just like the many memorable years of operation, White has lived and created a lifetime of tales – literally milking time.
The farm was established in 1935 in Sulphur Springs, Texas, before Interstate 30 had even been built and the dairy business was new to Hopkins County.
Her and her late husband Eldon started life together on meager means and lots of prayer.
"We had to borrow the money for our marriage license," said the soft-spoken 97 year old Wilma White, who still actively checks the livestock daily. "My dad gave us our first cow."
She met Eldon White while at a community dance one Saturday night when she was just 13 years old and they married when she was 17.
"While he [her husband Eldon] went and made the rounds (milk route) and I fed the cows, milked the 18 head (of dairy cattle by hand) and took care of our two babies," said dairy woman Wilma White. "So I've been around cows a long time." They built their current home in 1957.
The dairy business requires dedication – milking twice a day. However the couple has been blessed with children to help in the family business.
"We always had home cooked meals and some of the best pies," recalled her son Gerald White, who now does the daily milking chore. "I think mom [Wilma] liked milking. It gave her peace."
His mother agreed. "While I was milking it gave me time to just think," said White. Her son said his mother was like a "cow-whisperer," she had special calming skills around the cows his dad often did not understand. She had a "mother's touch."
White's Dairy was one of the first to modernize with milking machines. Their milk is shipped out mainly to the eastern United States. However they haven't been limited to just dairy cattle, the family raises award-winning horses, through the years pigs, ponies and grown a prosperous garden.
Watching the dairy woman in her environment even her late 90s with her cane in hand the wind in her hair smiling over her new colts it is easy to see this farm is where she was always meant to be.
"I wish I could be out there milking again," added White, who has no plans on retiring. "I make a pretty good consultant." Her pride in her family shines through as she sits happily in her kitchen surrounded by trophies and honors earned throughout the years.
Wilma White's goals for 100 years old: "Living to be old, I guess," said the dairywoman with a grin.