Congratulations Winners of the 14th Annual Texas State Champion Homemade Ice Cream Freeze Off
Winners in each division are as follows:
Super Scoop Category:
Jo Alice McCue – 1st place, Banana Pudding
Carlie Penson – 2nd place, Fire & Ice
People's Choice Award
Smiley Tooth Dentistry – Fruity Pebbles
Big Dip Novelty Other
Dakota Watkins – 1st Place, Candy Crush
Joy Allen – 2nd Place – Cookies & Cream Caramel Sundae
Henry Penson – 3rd Place, Pecan Pie
Big Dip Novelty Fruit
Tony Cotton, 1st Place, Black Cherry Walnut
Jo Alice McCue, 2nd Place, Strawberry Shortcake
Jo Alice McCue & Laquida Jennings,3rd Place, Rustic Apple Tart
Big Dip Fruit
Richard Allen, 1st Place, Peach
Carlie Penson – 2nd Place, Banana
Kim Bailey – 3rd Place, Strawberry
Big Dip Plain
Jo Alice McCue, 1st Place, Just Chocolate
Tony Cotton, 2nd Place, Vanilla
Tonya Ross, 3rd Place, Creamy Vanilla
Little Dip Novelty
Machelle Allen, 1st Place, Peanut Butter Nutty Bar
Bailey Allen, 2nd Place, Butterfinger
Crawford Johnson, 3rd Place, Rootbeer
Little Dip Fruit
Kyleigh Allen, 1st Place, Strawberry
Addison Bowers, 2nd Place, Banana
Jonah Foster, 3rd Place, Peach
Thank you to everyone who participated and to everyone who came out to enjoy a yummy bowl…or two…of ice cream.  Also a very special thank you to all of our sponsors, board of directors, ambassadors and other volunteers!
Thank you to everyone who attended the ribbon cutting for Blingin' Crazy!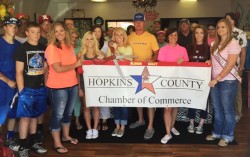 Blingin' Crazy is your source for all things BLING! They specialize in creating cute CUSTOM boutique style vinyl bling clothing, and accessories to make you stand out in a crowd! So no matter who you cheer for, Sulphur Springs Wildcats, Como-Pickton Eagles, Yantis Owls, ANY SCHOOL , ANY SPORT, they've got you covered…. in Bling! MORE THAN JUST TEES! They know not everyone wants another tee shirt, come in and see their selection of shirts from sporty to dressy! Blingin' Crazy can turn your idea into reality! Getting married? Stop by and see everything they have…from tees, champagne/wine glasses, koozies, caps and more, they have something for you! Embroidery coming soon! Angie Churchman, owner, would like to invite you to visit her store, located at 101 Bill Bradford Rd, Ste. 17.
Thank you to everyone who attended the ribbon cutting for ATA Martial Arts, Thursday, June 11.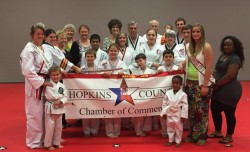 What a great facility and we enjoyed demonstrations by some of their students.  You are never too old.  They have a champion black belt student that is sixty-five years old.  They are hosting the Phoenix Rising ATA Regional Tournament in November.  More than 600 Tae Kwon Do students and their families will be in Sulphur Springs for three days.  For more information on their programs, please call 903-243-8767.
The Hopkins County Dairy Festival Ribbon Cutting, Friday, June 12th at Noon on the Square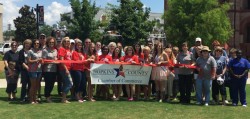 kicked off  the Dairy Festival and the World Championship Ice Cream Freeze-Off.  They had a great turn-out.  Thanks to all of you whom attended.
Hopkins County Historical Society presents Arts, Crafts & Collectibles Show & Sales, June 19-20th
Sign up now to participate in the Arts, crafts & collectibles show and sales, Friday, June 19th & Saturday, June 20th from 9am-5pm at Heritage Park.  Any kind of craft is acceptable:  quilts, fabric items, crochet, jams & jellies, stained glass framed photos, bath salts, handmade jewelry, wood crafts, health & wellness products. An outside 10×10 booth is $35 and an inside 10×10 booth is $50 with a very limited number.  For more information, please call Joyce Bateman at 903-945-3308 or email her at [email protected]
Hopkins County Dairy Festival Recipe Contest, scheduled for Saturday, June 20th has been cancelled
Concert in the Courtyard at Hopkins House is Thursday, June 25, 2015 from 6-8 p.m.
Monty Tipps will be the musical entertainment, along with community bingo as well as complimentary refreshments!.  While there, you may tour the remarkable community where seniors thrive.  RSVP to Sherrie by June 23 at 903-439-1202.  Hopkins Place, 890 Camp Street, Thursday, June 25 from 6-8 p.m.
Jan James Memorial Scholarship Tournament, Saturday, June 27th at SS Country Club
The Sulphur Springs Ladies Golf Association sponsors this annual tournament in Jan James' name because she was such an advocate of ladies golf.  Proceeds of this event will be designated for a senior on the Sulphur Springs High School girls' golf team.  Sponsor contributions are greatly appreciated!  Sponsor sign or banner is only $50.  For more information, please call Donna Gregory at 903-440-4798.
2015 Hopkins County Tomato Festival, Saturday June 27th on the Plaza at City Hall
Texas A&M AgriLife Extension Office presents the Hopkins county Tomato Festival, Saturday June 27th on the Plaza at City Hall.  All Entries are FREE!  They will have a tomato growing contest…classes: Cherry, Pear, Large Red & Goliath (biggest tomato by weight).  They will also have a Tomato Recipe Contest…classes: Main dish, side dish & salsa.  They will have 3 divisions…Children (ages 12 & under), Youth (ages 13-18) and Adult (ages 19 & up)  Entries are due by 5:30pm and judging begins at 6:00pm.
Free Concert & Fireworks, Saturday, June 27th Downtown Sulphur Springs
The Independence Day celebration begins Saturday, June 27th at 8:00 p.m. at Celebration Plaza with the Northeast Texas Symphony Orchestra, conducted by Dr. Douglas Bakenhus followed by the Independence Day  spectacular fireworks display that will begin at dark.  Bring your lawn chairs.  Concessions will be available.  Contact 903-885-5614, the Department of Tourism for more information.
Resonate Kids and Family Life Church 1st Annual Race for the Future 5k June 27th
Family Life Church invites everyone to participate in the 1st Annual Race for the Future 5K, Saturday, June 27th beginning at 7am at Buford Park.  $25 Early Registration (Includes t-shirt). $30 after June 19th (t-shirt is not guaranteed after 6/19). Medals given and prizes for 1st, 2nd, and 3rd overall. Register at Fieldhouse Sports (Make checks payable to Resonate Kids,Inc.) or sign up online at www.GetMeRegistered.com/RaceForFuture5K. Timing done by Race Chip Timing. Packet pick-up on June 25th from 5 – 8 pm at Family Life Church 1400 Loop 301 Sulphur Springs, TX. Packet pick-up also available the morning of the race before the race begins. All proceeds will send underprivileged children to Resonate Kids Camp http://www.resonatekids.com/
Rock Creek Health & Rehab welcomes Denise McCarty as their new Marketing & Admissions Director.  She can be reached at the office at 903-439-0107, Ext. 110, or her cell phone, 903-348-1486.  Congratulations Denise.
Mike Pribble Memorial Plaque Dedication, Wednesday,  July 1st at Noon at the Equine Pavillion
The Mike Pribble Rodeo was a staple for families in Hopkins County and surrounding areas over the 4th of July weekend for over 40 years.  Thousands of visitors made their way to Sulphur Springs to participate in the parade and Grand Entry of this 4-5 day event.  Memories of Mike Pribble standing on his head and roping 8 horses as they ran by and him doing the Texas Skip up and down the entire length of the rodeo arena fill the minds of many residents of this community.  As his granddaughter, I am privileged to get to invite you to attend the unveiling of a beautiful bronze plaque that will grace the front of the Equine Pavilion so that hopefully his memory will live on for generations to come.. A Special thank you to Enola Gay, Charles Helm, Adam Teer, the County Commissioners and County Judge Robert Newsom for their diligence in making this dream for my family become a reality.  Refreshments will be served at the unveiling!
The Chamber of Commerce would like to welcome our newest members to the Chamber.  They are:
North Texas Power Shopper-4043 Tracy Lane, Greenville, TX. 803-983-3325- Jeff Schollmeyer, Owner,
Marketing & Advertising Shopper
Joe's German Restaurant ,575 County Road 3647,SS, 903-439-8226.  Joe Boesel /Christine Zaehler,  Owners      first German Restaurant in Sulphur Springs.  Grand Opening will be in August.
That's all for now…have a GREAT week!