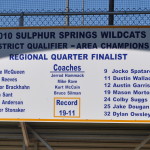 Tyler Follis threw a two hit shutout for six innings and Kade Hudgins pitched a scoreless seventh allowing one hit as the Wildcats defeated Mansfield Legacy, 6-0 in game one of their second round playoff series Friday night at Eagle Stadium.
The Wildcats got four key hits:  Carson Hicks drove in two with a single, Landon Brock knocked in one with a single and Larry Pryor drove home two with a double and hit a solo home run.
The Wildcats travel to Mansfield Legacy Saturday at 1 p.m. trying to wrap up the series with one more win.  All Wildcat play-off games can be heard on KSST radio, ksstradio.com stream, and the KSST smartphone app.